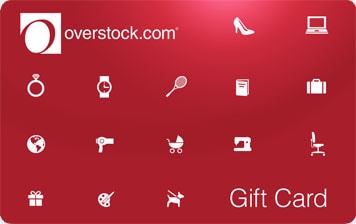 Overstock.com Traditional Gift Card
No lines, no returns, no headaches
Gift cards never expire and there are no usage fees.
Gift Cards ship free within one business day in a gift envelope.
Online redemption and balance check are available.
Last-minute gift givers can select expedited shipping or buy in select grocery stores nationwide.
Upon checkout, check the "I want to use a gift card" box under "Payment Information".
Enter the 19-digit code and PIN from your back of your gift card.
Click the "Apply" button, and the gift card amount will be credited to your account and applied to your purchase. Any unused balance will be removed from the gift card and transferred to your account for your next purchase.