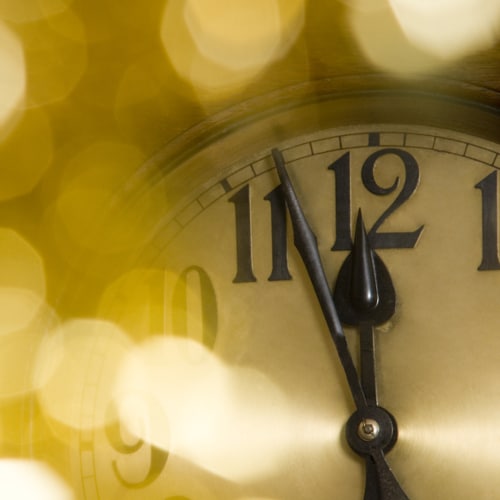 New Year's Resolutions
With each new year comes the perfect opportunity to improve your life with New Year's resolutions. If you've struggled to stick to your New Year's resolutions in the past, it's possible you just weren't prepared. This year, shop for the supplies you need to support your lifestyle changes. Don't let this new year pass you by without making a few new goals for a better you. Whether personal fitness is your goal, you want to stay connected with your friends and family, you're ready for a new career, or a clean and organized home is your dream, you can make it happen with the right supplies.
Get in Shape
Losing weight and getting into better shape are at the top of many New Year's resolution lists. How can you stick with your goal to get fit? Start by getting back to the basics with a tried-and-true diet and exercise plan. Bring the gym home with versatile exercise equipment and track your progress and success with the latest fitness tech. Fitness bands and smart watches can track your daily steps and monitor your heart rate to ensure you are pushing yourself to your target rate during every workout.
Update Your Home
This New Year, resolve to complete the home projects you've been putting off. Start with something small that will make a big impact. Adding a tile backsplash to your kitchen or bathroom is a great way to add color, texture, and an upgraded look to a space. Updating your cabinet hardware with new drawer pulls and handles is an easy DIY project that will transform a dated kitchen. Whether you need to replace a leaky faucet or update your bath vanity, you can find design inspiration in the Overstock™ Idea Gallery.
Update Your Style
The start of a new year is the best time to try a different look or updated style. Jewelry is a great way to add glitz and glamour to a tired wardrobe. You can also commemorate your success this year with a new watch. The best accessories celebrate important relationships. This year, start an exciting new phase of your life with a stylish engagement ring or update an old wedding band for your significant other with a stylish new diamond ring.
Stay Organized
If you're looking to improve your productivity at the start of the New Year, start by getting organized. Whether you need to reorganize your closet, garage, or home office, you'll need to throw out or donate clutter like old clothes, shoes, and home goods. Then, make sure everything that's left has a place to be put away. Storage bins, storage cabinets, and new shelving will make sure everything is organized, so your home feels clean and uncluttered.
Make a Career Move
This year, don't dress for the job you have, dress for the job you want. How you present yourself to your coworkers and boss can speak volumes about you, your work, and your ambitions. Make sure you have clothes that fit well and convey a professional look. This is especially important when interviewing for new job opportunities. For a classic business look, men will want to shop for two-button suits, and women will want to shop for skirt suits or pantsuits.
Learn Something New
In addition to hitting the gym this year, don't forget to exercise your mind. Make a goal to learn something new and exciting that will hold your interest all year long. Books are a great way to learn new things like time management, a new hobby, or even a new language. No matter what you choose to study, keeping your mind sharp will have added benefits on nearly every aspects of your personal and professional life.
Get a Better Night's Rest
One of the best ways to improve your health and mood this year is by making sure you get a better night's rest. If you're tossing and turning through the night, then your mattress may be the problem. A memory foam mattress conforms to your individual body shape and helps relieve pressure points on your body. Want to upgrade your current mattress? Adding high thread count sheets, a mattress topper, and a new comforter to your bed will also make it more comfortable than ever before.
Eat Healthy at Home
Eating healthy meals at home will help you stick with your New Year's fitness resolutions and save money at the same time. Make cooking healthy food easy with new appliances for your kitchen. Try a new blender for delicious fruit smoothies or a juicer that can help pack a whole daily serving of fruits and veggies into one cup. Look for a food steamer that will help you cook in the lightest way while maintaining nutrients. And don't forget a food processor to prepare all those fresh ingredients. If you need help with recipes, be sure to pick up a cookbook while you're shopping.
Keep in Touch
No matter what your New Year's goals are, staying in touch with friends and family for support will help propel your success. A new tablet is a great option for checking your email and sharing photos with your friends on social media. Upgrading your cell phone to the latest smartphone can also help keep you in constant contact with those that matter most. New smartphones, like the iPhone 6 or Samsung Galaxy S5, also have built-in fitness-tracking technology, allowing you to keep tabs on your exercise and diet goals.
what shoppers are saying about New Year's Resolutions at overstock™
Related product reviews

Great printer for large or small prints!

I have owned this printer for some time now and love the high resolution quatlity of the prints it continues to produce. Printer setup software makes controlling the desired results easy every time.

Tv purchased

It's awesome and the image is stunning. Love the colors on the screen resolution

Dell Latitude refurb

VERIFIED PURCHASE

Decent laptop for the price. Nice clear resolution on screen.

Quality

VERIFIED PURCHASE

Although the rug is very good quality the color line isn't even close has nothing to do with a resolution just poor picture quality

Nice Camera

VERIFIED PURCHASE

Great value for the money. Take high resolution images with ease.

From Abe

VERIFIED PURCHASE

I purchase this item a while ago and I love it. very clear resolution.

No way to hang it

VERIFIED PURCHASE

There is no clip or anything on the back to attach this to the wall. It is quite heavy. We are still working with Overstock toward a satisfactory resolution.

Beautiful Lamps/Customer Service Issue

VERIFIED PURCHASE

I really love these lamps. They are a beautiful in family room located on either sides of the fireplace. However, they are very challenging to assemble. Also, one of the post was bent on the second lamp. Unfortunately, I could not exhange it as it was out of stock. Was working with Customer Service to find some amicable resolution & we were disconnected. Did not receive a follow up call from the service dept. as promised. Neither did I receive a credit for keeping a damaged product as promised. My husband figured something out since I really wanted the lamp... A little disappointed with the way Customer Service handled the issue. May not purchased any more furniture items just in case they arrive damaged & need a resolution.

Just what l wanted.

VERIFIED PURCHASE

Perfect for my space. Had a dent upon arrival. Customer service is to be commended for their resolution to the issue. Both the table and this company have my sincere and high approval.

Shop Other Events