Yoga Equipment Buying Guide
by Stephanie Petersen
Within the last several years, yoga has become one of the most popular exercise routines in the world. Whether you've seen yoga classes popping up or have passed a yoga DVD in the supermarket, yoga might have recently caught your eye. Although there are many pieces of fitness equipment you can buy for yoga, you only need a few to get started since your yoga workout relies almost completely on your own body.
Essential Yoga Equipment: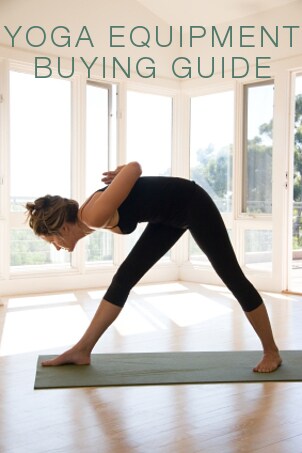 Shop Yoga & Meditation ▸
Yoga clothing:

Because of the movements you'll be doing in yoga, comfortable clothing is essential. Yoga is performed barefoot, so you won't need any shoes.
Yoga Clothing You'll Need:
Yoga pants or shorts:
Loose fitting or stretchy pants and shorts will let you stretch your legs as you need to. Yoga pants made of fabrics like cotton or a cotton-spandex blend will breathe and let you move.
A tank top or T-shirt:
Choose shirts that you'll be comfortable in when you are hot.
A sports bra:
Although the movements of yoga aren't always as vigorous as with other sports, you can wear a sports bra if you feel you need one.
Yoga mat:

Yoga mats, also known as sticky mats, increase the stability of your workout, which you'll be grateful for as you learn to balance in new ways. Made of a thin material, yoga mats are more about helping your feet stay in place than giving you padding from the floor. Your yoga mat may need to be broken in to have the grip you need; washing it once or twice should do it. If it is not machine washable, it will come with instructions for hand washing and breaking it in.
How to Buy a Yoga Mat
Choose the right size:
Yoga mats are usually about 24 inches wide and 68 inches long, but if you're tall, you may want to look for a larger yoga mat. You'll find them up to about 85 inches long.
Consider materials:
They're often made of a synthetic material, which provides great traction. Yoga mats made from natural materials, like jute, are also available, and these may be a bit more expensive.
Add a carrier:
If you'll be taking your mat to a studio, you may want a carrier. These can be as simple as a strap that wraps around the yoga mat and has a handle, or it can be a bag for the yoga mat with other compartments for your car keys and a water bottle.
A water bottle:

It's important to drink plenty of water before, during, and after a yoga class. A yoga studio may provide water, but bringing your own refillable water bottle will reduce waste and save you money. You'll want to have a water bottle when you're doing yoga at home as well.

Optional Yoga Equipment

Yoga ball:

Also known as a stability ball, a yoga ball can be used for seated yoga poses as you develop your balance. They come in a few sizes, and you'll choose yours based on your height.
| Your height | Yoga ball size |
| --- | --- |
| Under 5' | 45 cm |
| 5' 1" to 5' 8" | 55 cm |
| 5' 9" to 6' 2" | 65 cm |
| 6' 3" to 6' 7" | 75 cm |
| 6' 8" or taller | 85 cm |
Yoga block:

For yoga poses where you need to reach your hand to the floor, but you just can't quite reach, use a yoga block. Yoga blocks give you a sturdy spot to place your hand until you are flexible enough to reach all the way to the floor.

Yoga straps or belts:

A few yoga positions require you to grab your feet or link your hands behind your back. If you aren't flexible enough to stretch like that yet, use yoga straps, also known as yoga belts. Use the yoga straps until your body has become accustomed to your new yoga practice.

Eye pillow:

The final relaxation part of a yoga routine is called "Savasana," and you may want to bring your own eye pillows to a class for this. Using an eye pillow at home can help you to relax there, too. Filled with calming herbs, an aromatic eye pillow has a bit of weight, so when it is resting over your eyes while you recline on your yoga mat, you can't help but close your eyes and relax.