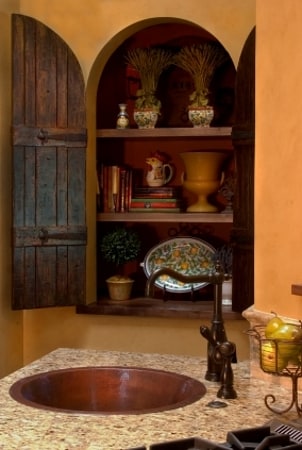 Across the globe, artisans are busy making decorative accessories for the home. Through Worldstock, these decorations are brought to an international home decor market and right into your own home. These handmade accent pieces are unique, international and socially conscious, and they add interest to your own home decor. If you're thinking of purchasing handcrafted home decor from our Worldstock artisans, read the following Worldstock home decor tips to learn the best ways to decorate with world decor.
Decorating with Worldstock:

Focus on simplicity: The decorative accessories from around the world in our Worldstock store are unique and captivating. Because each piece is so eye-catching, however, you don't want to overwhelm your decor with too many pieces. Rather than filling a room with several pieces of artisan decor, choose one standout piece to use as a focal point. From there, add smaller accessories and decor that coordinate, but don't compete, with your focal point.

Experiment with color: One of the most exciting aspects of world decor is the enticing colors that many of the pieces have. Choose a unique wall hanging, rug or statue and use the rest of your decor to play off the colors of the piece. Don't be afraid to mix colors. A set of mismatched, vibrant Worldstock throw pillows can brighten a room and help highlight a handcrafted wall hanging.

Decorate by room: While you may love both the African tribal mask and the Chinese wall panel you've picked out, they may not exactly complement each other. Stick with decorative accessories from a certain region or style for one room, but feel free to focus on another style in a different room. This will create a sense of continuity within your decor and help bring focus to your world decor pieces.

Floor to ceiling: When you're thinking about decorating with handcrafted Worldstock decor, think about every surface. From floor to ceiling, walls and tabletops, you'll want to be creative with your home decor. Choose a handmade rug that complements the artisan-made throw pillows on your sofa or make a connection between a wall hanging and a set of tabletop vases.

Lighten up: Some of the most beautiful lighting in the world is created by Worldstock artisans. Consider bringing a touch of world flair to your home decor through lighting. A silk pendant lamp from Thailand looks incredible hanging above a coffee table, and a set of ceramic lamps from Mexico can enhance a pair of nightstands alongside your bed. Use lamps and lights handcrafted by artisans to bring illumination to the rest of your world decor.

Buy Worldstock Home Decor
Back to Guides Directory