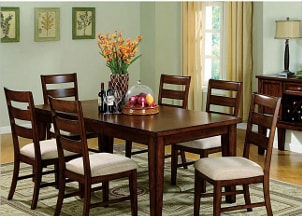 Wood furniture evokes a sense of tradition, harkening back to the days when household goods were not only handmade but often also self-produced. Wood furniture comes in a variety of wood types and finishes to suit any home decor. Of the many woods used, however, there are preferences for certain types of furniture. This glossary will help you buy wood furniture by sorting out which kinds of wood are best for a particular type of furniture.
Buying Wood Furniture:

Features of wood furniture: Wooden furniture lends itself to interesting and elegant customization. The tradition of painstakingly handcrafting pieces continues to this day with contemporary furniture. Designers add a variety of ornamentation and accents wood furniture, ensuring that you'll be able to find a set that uniquely complements your existing home decor.

Hardwood and softwood: The two categories of woods, softwood and hardwood, do not actually refer to how hard or soft a wood is to the touch but rather how dense the wood is. Hardwoods are trees that lose their leaves seasonally, and softwoods are trees that keep their foliage all year. Of the many woods used, there are preferences for certain types of furniture.

Veneers: Veneering is a centuries-old technique where thin layers of fine, decorative wood are bonded to the face of furniture. The base material may be a less expensive wood with a fine wood bonded on top. This allows more expensive, rare woods which would be too expensive or fragile to use as structural parts to be used on the furniture. Veneering also adds interest and beauty to furniture pieces when applied in patterns. You will have the beauty and quality of the fine woods at a less expensive price than a solid furniture piece.

Inlays: Inlay is the process of decorating a piece of wood furniture with pieces of other woods, ivory or metals which are set flush with the surface. Inlays are common on accent tables, jewelry boxes and other furniture accessories.

Finishes: Wood furniture can have one of a few finishes. The furniture can have a natural clear finish, a finish to resemble another wood or a coat of paint. Wood finish serves two main purposes: to protect the wood and to enhance its natural color. Woods can be stained and finished to look like any other wood; you will have the look of rare woods without paying a hefty price. Paint protects the wood while adding color. Many painted furniture pieces are hand-painted, which lends a charming, country appearance, while others have a lacquered paint, which looks more contemporary.
Types of Wood for Furniture:

Ash (white ash): This hardwood is tough and known primarily for its exceptional bending abilities. Ash is used for bentwood furniture and bent furniture parts that need a lot of strength. Bentwood furniture is a type of wood furniture made by bending wood rods into required shapes after they have been heated with steam. Ash is also commonly used as a veneer.

Cedar (Eastern red cedar): This softwood is used mainly in chests and closets, but it can be used for bed frames, too. Because of its distinctive scent, it is effective in repelling insects. Cedar storage chests should be left unfinished on the inside to prevent insects from eating clothing, papers and other stored items.

Cherry (black cherry): This hardwood is among the most valued woods. Cherry is used in fine furniture and cabinets. Cherry wood is commonly used in veneers and inlays to add a touch of luxury to wood furniture pieces.

Cypress: Cypress is softwood used for bentwood or twig furniture. Cypress makes rustic chairs, loveseats, tables, swings and beds. Cypress is also used in patio furniture; Southern cypress trees produce oil, called cypressine, which acts as a natural preservative within the wood. Cypress is also used in fine indoor wood furniture, chairs and veneers.

Fir: Fir is a softwood that is used in many types of wood furniture, as well as doors, frames, windows, plywood, veneers, general millwork and interior trim.

Mahogany (New World mahogany, African mahogany): Mahogany is a traditional hardwood that is a favorite for making fine wood furniture. It is one of the most treasured hardwood furniture materials in the world and is used extensively in veneers.

Maple (Sugar maple, Pacific coast maple): Maple is a strong and dense hardwood used in wood furniture and butcher blocks, including butcher-block kitchen carts.

Oak (red and white oak): This hardwood is abundant and valued for its strength as well as its attractive grain. Oak is used for very solid wood furniture and veneers in modern furniture, such as beds, entertainment centers, dining tables, chair, end tables and nightstands.

Pecan: This is a strong Southern hardwood that is used extensively in dining room furniture and office furniture. Veneers of pecan are also common.

Pine: Many rustic furniture pieces are made from pine. This softwood looks great when distressed. Most unfinished wood furniture is pine, although finished pine furniture has a clear lacquer that deepens the natural yellow color.

Teak: Teak is a choice furniture hardwood that has been traditionally used for both solid furniture pieces and veneers. Teak is especially popular for outdoor furniture.

Buy Furniture
Back to Guides Directory