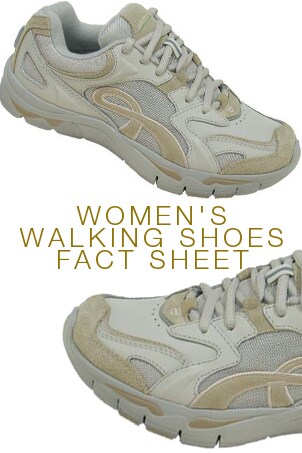 The pair of women's shoes you wear when you're walking can have a huge effect how you feel. Whether you're looking for a pair of shoes for your daily power walk or something to wear every now and then, you'll want shoes that are designed for walking. Everything from comfort to stability can affect the way you walk. These facts can help you better understand walking shoes, so you can find the best pair of athletic shoes to walk in.
Facts about Walking Shoes:

Breathability: Athletic shoes should be breathable to keep your feet cool and comfortable while you work out. Since you typically don't sweat as much when you walk as compared to running, walking shoes won't need as much breathability as running shoes, but the shoes will still provide plenty of ventilation to your feet.

Lightweight: A pair of lightweight walking shoes can help to reduce stress on your joints when you walk and are certainly more comfortable, especially on long walks. If you plan on walking long distances, pick a shoe that weighs less than a shoe you would use to walk infrequently or for short distances.

Flexible soles: When you walk, your foot rolls from heel to toe to absorb the impact of your foot on the ground. This rolling motion is emphasized more in walking than in running, so your walking shoes should aid with that movement. Look for women's walking shoes with a flexible sole that allows your foot to roll easily, especially through the toe box.

Beveled heels: While many running shoes and women's athletic shoes have a wide heel to improve stability, women's walking shoes have a beveled heel that reduces impact and promotes proper foot alignment. A beveled heel on your walking shoes will help with forward movement as well.

Trail vs. pavement: The type of women's athletic shoe you buy for walking depends on the surface you plan on walking on. If you primarily walk on trails, choose a trail-walking shoe with a thicker sole and more stability. If you're planning on walking on pavement, choose a flexible shoe that reduces impact.

Comfortable fit: One of the most important qualities of athletic shoes is the fit. For walking shoes, you'll want to make sure the shoes aren't too tight or uncomfortable. Make sure there is enough room in the toe box for you to wiggle your toes, and the heel should not slip. It's important to have room through the arch of the shoe as well.

Replacing shoes: Walking shoes wear out eventually, so it is important to replace them when they need to be replaced. Keep track of how many miles you walk in your shoes and replace them every 400 to 500 miles to prevent injuries.

Shop Athletic Shoes
Shop Sneakers
Shop All Women's Shoes
See All Guides
Read More Clothing & Shoes Guides
Learn More about Shoes