Women's Swimwear Buying Guide
by Stephanie Petersen
Published April 28, 2010 | Updated June 30, 2015
When it's time for fun in the sun, it's time for new women's swimwear. For some women, though, shopping for a swimsuit is torture. If you need to learn how to buy swimwear without stress, then this buying guide is for you. Whether your version of fun includes sunbathing in a bikini, swimming in a sporty swimsuit, or playing beach volleyball in a tankini, here's how to find the women's swimwear you'll love.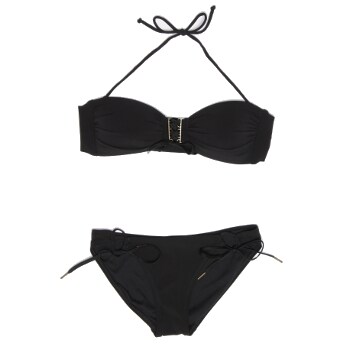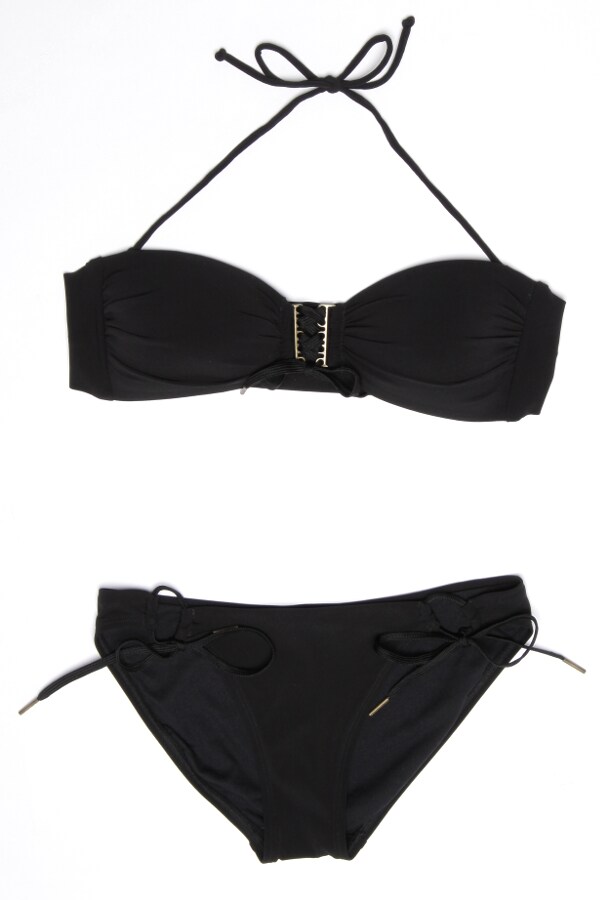 Shop Women's Swimwear ▸
One-Piece Swimsuits:
Maillot

Pronounced my-oh, this is the name of traditional one-piece swimsuits, also known as a tank suit. These bathing suits can have bandeau tops (which wrap around), halter tops (where the straps tie behind the neck), or regular tank top straps. Maillots can also have a variety of leg openings, from high-cut to low. They may also be embellished with cute details, like belts or ruffles. These swimsuits are perfect for women who want a swimsuit with more coverage or who want to conceal a soft tummy or love handles.

Fitness or Sport Suit

One-piece swimsuits with a sleek fit (for speed) and a racer back (where the straps cross in the back) are meant for people who are more about swimming laps than taking naps in the sun. Fitness swimsuits work well for any woman who wants a no-fuss swimsuit for exercising or competition; women with athletic builds may also prefer this style.

Skirted Swimsuit

A one-piece swimsuit with a skirt attached adds an extra bit of coverage to the legs. Skirted swimsuits are great for women who would like to cover their thighs a bit more and new moms who would like additional coverage for stretch marks.

Monokini

With fabric down the middle of the front connecting the top and bottom, this one-piece swimsuit is a style for the daring woman. The side cut-outs vary in degree, so some monokinis are more revealing than others. Women with boy-shaped bodies who want to create the illusion of curves may prefer monokinis, and women with lean hips might also like this suit.

Keyhole Swimsuit

A keyhole-shaped cutout in the front of this one-piece swimsuit takes a traditionally modest bathing suit and adds a dash of skin. This cut is perfect for women who want to conceal their sides but show off a toned stomach and for women who want a non-traditional swimsuit.

Slingshot Suit

Also know as a "pretzel," the slingshot bathing suit walks a fine line between one-piece and two-piece swimwear. This bold beachwear consists of one piece of fabric that covers the breasts and connects to a sexy, skimpy bottom, usually with a thong or g-string back. The slingshot has a similar look to a bikini bottom with suspenders, and it is best for daring women who want show off their figures while posing by the pool.

Two-Piece Swimsuits:

Triangle Top Bikini

Just as the name implies, the cups of a triangle top bikini are two triangular panels. The triangles may tie in the middle or be sewn together, but they almost always tie around the neck and in the back. The ties allow the wearer to make adjustments as she wants. Triangle top bikinis are available with different types of bottoms. Triangle tops work for curvy women who want to adjust the top to flatter their curves and women with boyish figures who want to visually create curves with their swimsuit.

Halter Top Bikini

Halter bikinis have a top that ties or connects behind the neck and in the back. The straps are usually wider than those on a triangle top bikini and often are not adjustable. Both large-busted women who need more support and small-busted women who want a little bit of lift benefit from this style of top.

Bandeau Top Bikini

A bandeau top is a piece of fabric that wraps around the bust like a band. The bandeau top may or may not have straps, and the straps could be tank top style (over the shoulders) or halter top style (behind the neck). A strapless version is great for sun bathers who don't want tan lines from shoulder straps.

Tankini

A tankini is like a tank top with bikini bottoms. The top usually comes down to the waistband of the bottoms like a shirt, so the wearer has a two-piece swimsuit with much more coverage.

Hipster Bikini

This bikini has a low rise, meaning that the waist is lower than traditional styles. The name "hipster" means that the waistband is closer to your hips than your waist. Hipster bikinis can be matched with different types of tops and can have varying amounts of coverage in the seat. Hipster bikinis are designed for women who want to show off a toned stomach and those who love the modern look of low-rise bottoms.

Thong Bikini

This tiny bikini has only a strip of fabric in the seat for maximum exposure. While it takes a lot of confidence to wear this style, many women love a thong bikini. It is best for women who want no tan lines and who like the European style.

String Bikini

With strings to connect the front of the bottoms to the back, a string bikini is one of the most flattering styles. These bottoms are usually paired with triangle tops. This style works well for women with a boyish figure who want to create curves and those with larger hips who want to be able to adjust the sides to fit.

Buying Women's Swimwear:

Color and Pattern

While choosing the color of and patterns on your new swimsuit should be based on your personal preference, you may want to be aware of the effects of wearing different colors and patterns.

Find What Flatters You:

Teal or turquoise can make fair skin look tanner.

Bright colors, such as white or coral, are flattering on brown or olive skin.

Black can make you look slimmer, but pale women may prefer wearing brown instead.

If you have areas you don't want to draw attention to, choose a swimsuit that has solid colors on those areas. Patterns can attract attention and create fullness where you want it.

Details, like a logo or a bow, will also attract attention.

V-shaped stripes (also called chevron stripes) can make anyone look slimmer.

Women's Swimwear Care

While it's fun to buy a new bathing suit every spring, you may want yours to last longer -- especially once you've found a swimsuit that you really love. If you wear your swimsuit in the pool, make sure you rinse it out as soon as possible because chlorine can wear down the material in your women's swimwear quickly. Hand wash it in cool water with a gentle detergent. Allow it to hang dry in the shade or indoors -- never in the direct sunlight. When your swimsuit starts to lose it shape and sag, it's time to replace it.

Get the Right Size

Finding the right size is essential to looking and feeling comfortable in your new swimsuit. Read our guide on measuring yourself for swimwear for tips.