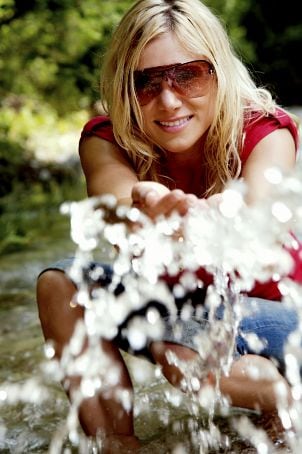 Designed as much for style as protection, women's sunglasses are an important addition to any wardrobe, but how do you know if you're getting a pair of sunglasses that will look great and shield your eyes from the sun? With so many different styles available, it may be hard to narrow it down to the perfect pair. This women's sunglasses buying guide has the information you need to buy sunglasses that flatter your face and style and protect your eyes.
Sunglasses for Every Face:

Measuring for Women's Sunglasses

Find the right size. Sunglasses measurements are given in millimeters and have three numbers: the width of the lens, the distance between the two lenses and the length of each arm. For example, you may see the measurement "60 - 16 - 115." This means that each lens will be 60 millimeters wide, the bridge across your nose will be 16 millimeters, and each arm will be 115 millimeters along each side of your head.

Measure yourself. Stand in front of a mirror with a ruler or measuring tape and measure at the widest point of your face. Then measure the width at the top of your nose, where the sunglasses will sit; this is the middle number. Take the total measurement, made at the widest point of you face, and subtract the bridge size, then divide it in half; this is your lens size.

Pick a style. Designer sunglasses will be most flattering when they are the same width as the widest part of your face. You'll want to consider the measurements of sunglasses when you are online shopping and can't try them on. Remember that a millimeter is very small; if you decided that 60 millimeters is your perfect lens size, but you love a pair of aviator sunglasses or square sunglasses that measure 62 millimeters, you feel good knowing that they will probably still fit well.
Protecting Your Eyes

Shield your eyes. Be sure that the sunglasses you buy have at least 60 percent UVA protection and 95 to 99 percent UVB protection. If the brand-name sunglasses or even discounted wraparound sunglasses you like don't have any UV protection, you may want to pass on that pair and keep shopping. Luckily, these days, most sunglasses do have full UV protection.

Save your skin. Sunglasses can also protect the delicate skin around your eyes, especially if you choose a pair of oversized sunglasses. When you aren't squinting into the sun, you aren't as likely to get little wrinkles around your eyes. Brand-name sunglasses that wrap around your eyes will also keep your skin looking more youthful.

Choose colored lenses. Buy sunglasses with brown or amber lenses when you need high-contrast vision to see well during sports, and find frames with grey lenses for driving so that your vision is not distorted.

Buy Women's Sunglasses
Back to Guides Directory