You need quite a few women's shirts, so where do you start? This buying guide is here to help you figure out how to buy the shirts you need, so when you open your closet, you'll see just the shirts that are right for your body type and your lifestyle. If you're starting from scratch or scaling back your wardrobe, be sure you have the minimum recommended numbers of shirts; you can fill in more as you see what your day-to-day needs are.
Short-sleeve Shirts: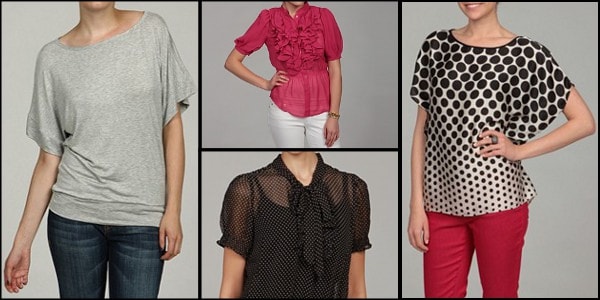 3 or 4 T-shirts: Once a casual mainstay, women's T-shirts are now made in nicer fabrics and with better fits, so you can wear them more often than just when you're relaxing. Solid tees are versatile and perfect for layering; make sure you have at least one in your favorite color. Be sure you have some fun styles, too, such as a few graphic tees or a T-shirt accented with lace or sequins.

3 or 4 short-sleeve work blouses: While women's blouses were originally made like men's button-down shirts, the styles to shop for now have feminine accents that show off your best assets. Look for blouses with playful details like a tie neck or ruffles, which will draw the eye up to your face.

2 or 3 short-sleeve weekend blouses: Sometimes you need something more dressed up than a T-shirt but more relaxed than a work blouse. Include shirts in your wardrobe with a variety necklines and lengths, so you can pair them with different pants and skirts. For example, the button placket on a polo shirt lets you adjust your neckline. Tunic tops are longer than other shirts, and this longer length makes them perfect to pair with leggings or skinny jeans.
Long-sleeve Shirts: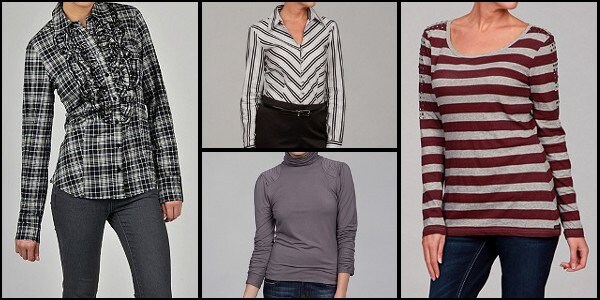 3 or 4 long-sleeve work blouses: If you need to dress up for work, these may be the shirts you spend the most time in; make sure they are flattering and comfortable. If you have a small frame, look for blouses that are fitted. If you have a larger bust, choose blouses with darts so you won't struggle with pulled buttons. You may want to have these blouses professionally cleaned and pressed, so you'll always look sharp at the office.

1 or 2 long-sleeve weekend blouses: While you may often opt for T-shirts when you're off the clock, a few long-sleeve blouses will be a welcome addition to your closet, even if you do end up wearing them with the sleeves rolled up. Make sure these are shirts that you won't have to iron; a cotton blend fabric should keep you from needing to add that step.

2 or 3 long-sleeve T-shirts: For casual days in colder weather, you'll want some long-sleeved T-shirts. Depending on the neckline that you're comfortable wearing, these could be anything from jersey turtlenecks to thermal henleys.
Three-quarter-sleeve Shirts: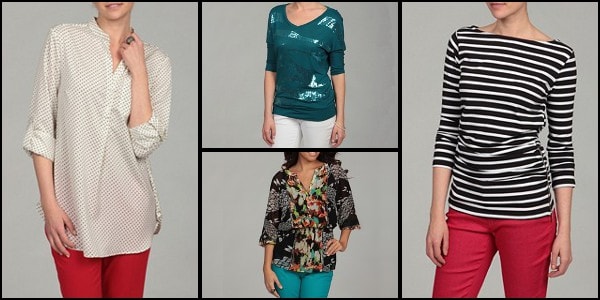 3 or 4 three-quarter-sleeve blouses: This sleeve length is one of the most flattering because it shows off what is usually the skinniest part on most women: the wrist. Take advantage of this, and get a few 3/4-sleeve shirts in quality fabrics, like silk or rayon.

2 or 3 three-quarter-sleeve tees: It can be tricky to dress down without getting too casual. If you have an occasion where you need to find that balance (like a neighborhood barbecue or a parent's night) try wearing a 3/4-sleeve T-shirt in a navy stripe or a bright solid. You'll be comfortable, but you'll still look stylish.
Sleeveless Shirts: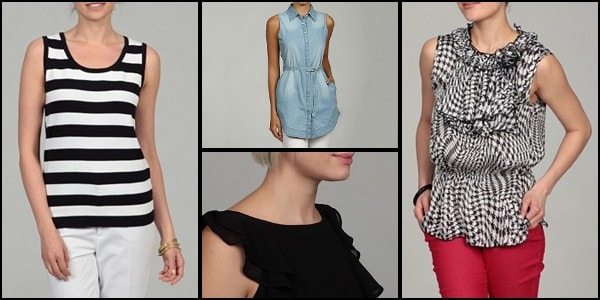 2 or 3 special party tops: Whether your going-out style is lace and ruffles or denim and leather, make sure you have a few sleeveless shirts you can wear with skirts or jeans when you head out on the town in the summer.

2 or 3 sporty tank tops: A summertime must-have, cotton tank tops are perfect for layering or wearing on their own. If you have a larger bust and need a bra with more supportive straps, be sure to look for tank tops with wider shoulder straps that will keep your bra concealed.

3 or 4 sleeveless work shirts: If you need to dress up for work -- even when it's 90 degrees outside -- you'll want to have nice sleeveless shirts that you can layer a suit jacket over in the office and wear on their own during your commute home in the heat. Make sure the neckline is high enough to keep a professional appearance, and look for simple silhouettes that won't feel bulky under a blazer.

Buy Women's Shirts
Back to Guides Directory