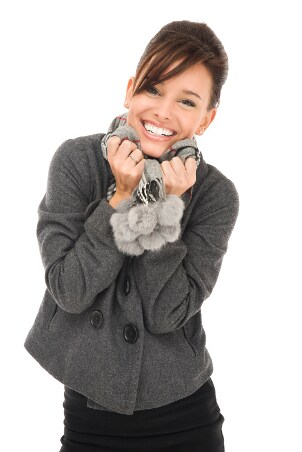 One of the easiest ways to update your look is with scarves, but if you're not sure how you're going to wear them, you may not be sure which ones to buy or you may even end up with a drawer full of accessories you never wear. If you're unsure how to buy scarves that you'll love, then this buying guide is for you.
Build a Scarf Wardrobe:

Long scarves: A long narrow scarf can rest around your neck with the ends loose, or it can be looped around into a cozy neck wrap. Long scarves in wool or flannel are essential for cold weather layering. Lightweight long scarves work well in fall and spring. Try tying a long lightweight scarf into a knot or bow that hangs loosely on your chest for a casual look.

Square scarves: Small square scarves are perfect for knotting at your neck when you're wearing a blouse, while larger squares can be used in a number of ways. Silk squares are especially versatile, but it's a good idea to have a few cotton squares, too. Fold a square scarf into a triangle and start experimenting with ways to wear it.

Silk scarves: No matter its shape or size, a silk scarf will add style to any outfit. Most silk scarves come with colorful prints on them, perfect for adding excitement to your look. Whether it's in a print or a solid color, neutral or bright, a silk scarf can be work around your neck in cold weather and around your head when it's warm.

Wool scarves: If you live in a colder climate, you'll want to be sure you have a few wool (or acrylic) knitted scarves. Be sure you have wool scarves in colors that coordinate with your winter coats, as you will most likely be wearing them together.

Cotton scarves: Like silk scarves, cotton can be worn whether it's summer or winter. The trick is the placement. You can get year-round wear from these scarves if you move them up from your neck to your head when the temperatures rise.
What Scarves Will Do for You:

Add texture to a monochromatic outfit: Add a chunky wool scarf in black to an all-black outfit for a luxurious winter look. Try a ruffled cashmere scarf in cream with a head-to-toe cream-colored outfit.

Add a seasonal trend to a classic outfit: If metallics are in one season, but you're not ready to commit to too much shine, try a shimmery scarf with your favorite blouse and trousers for just a dash of the trend.

Flatter your face: Tied around your neck, a scarf in a color that flatters your eyes or skin tone can help you look more awake and vibrant.

Give color to a basic outfit: Basic black is great, but add some green, purple, or teal to your outfit with a bandana or kerchief and the look just pops.

Keep you warm: Of course, in warm wool, a scarf can serve a functional purpose, but you can still choose one in your favorite color or pattern. If your winter coat is neutral, your scarf can be the bright spot on a grey day.
Ways to Wear a Scarf:

Tie a long scarf in a bow around your neck.

Tie a bright silk scarf to your handbag's handle.

Tie a small square silk scarf into a choker.

Fold a cashmere scarf until it is narrow enough to tie like a men's necktie.

Pull a scarf through your belt loops and wear it as a belt.

For more ways to wear a scarf, read our guide featuring five easy easy to tie a scarf.

Buy Scarves
Back to Guides Directory