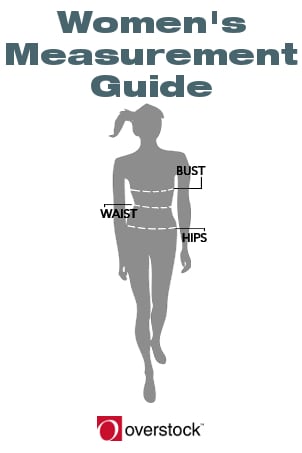 SHOP WOMEN'S CLOTHING NOW >>
With all the discounts you can find on clothes when you shop online, you don't want to miss out. However, online shopping for clothing can be difficult when you don't know what size to wear. For some women, not being able to try on clothes makes them hesitate to shop online. This guide will show you how to measure and what to look for when you are online shopping, so you will know how to buy women's clothes that fit.
Measuring for Women's Clothing:

Bust: Let your arms hang naturally at your sides. Have someone measure you with the measuring tape parallel to the ground. Have your friend measure under your underarms, around your back and over the fullest part of your bust. Make sure the measuring tape is snug but not tight.

Waist: Bend over to one side to find the spot where your waist naturally creases. Measure this spot; it should be right under your navel. Keep the measuring tape parallel to the floor and snug against your skin, but don't pull it tight.

Hips: Stand up straight with your feet together. Have a friend measure over your hips and rear, around the fullest part. Make sure to keep the measuring tape parallel to the floor.
Types of Women's Clothing Sizes:

Juniors': Juniors' clothing is sized for the smaller figures of young women. Likewise, the styles are often those favored by girls and teens. Juniors' clothing is differentiated from women's clothing by sizes with odd numbers.

Women's: Previously referred to as "ladies' sizes," women's clothing sizes are the even-numbered sizes starting at zero and ranging to 14. These sizes are given to clothing for women who are taller than 5'4" and whose measurements are smaller than 39-31-42.

Petites: Petite women's clothing is for women who are 5'4" and shorter. "Petite" only refers to height, so petite sizes range the same way that women's sizes do (with even numbers) and may even include some plus sizes.

Plus sizes: What has been referred to as "women's sizes" is now commonly known as plus-size women's clothing. These clothing sizes refer to women of any height who have measurements larger than 39-31-42. Plus-size women's clothing is measured in even numbers starting at 14 and going up.
Buying Flattering Women's Clothing:

Tailors aren't just for men. Men are familiar with having suits custom-tailored, and you will want to find a tailor, too, especially if your body doesn't match the standard clothing sizes. Most women have experienced the frustration of trying on women's clothes and not having everything fit as expected. With the great deals you find online clothes shopping, it won't hurt to spend a little bit more on the ladies' clothing you buy to have it sized exactly for you.

Find clothes that accentuate the positive. Let the styles you wear show off the body features that you like. For example, are you a medium in the bust and hips but an extra-large in the waist? Try choosing clothing styles that aren't meant to fit tightly around the waist so the measurements aren't as big of a concern.

Read customer reviews. Product reviews can be very helpful, especially if you plan to buy clothes online. If a number of women have said an item runs small, you will most likely want to heed their advice and order a size larger.

Allow for shrinkage. If an item is 100 percent cotton, it will most likely shrink when you wash it. Unless the item is described as "pre-washed" (like some jeans), you may want to order a size larger to accommodate shrinking.

It's not about the number. Don't let the numbers on the sizes bring you down. Looking great in clothes isn't about a number on a tag; it's about how the proportions work for you. When you choose clothing that is appropriate for your age and body type, you'll always look like a million bucks (without spending that much, of course).

Shop Women's Clothing
Shop Plus Size Women's Clothing
Shop All Clothing & Shoes
See All Guides
Get More Online Shopping Tips
Learn More about Sizing & Measurements
Published April 28, 2010
Updated December 3, 2014