Women's Clothing Buying Guide
by Stephanie Petersen
Whether you're hesitant about buying women's clothing online or are just unsure of where to start, this guide can help you find the perfect women's pants, shirts, skirts and dresses at great deals without ever visiting a mall. Online shopping for clothes offers so many benefits, but for many women, it can be a little intimidating. The Internet is a big place, so start by asking yourself some questions to narrow down your search. Then, read a few tips on getting the most out of online shopping for women's clothing. With these tips, you'll never need to fight the crowds at department stores for women's clothes again. And if you're still not convinced that the Internet is the answer to updating your wardrobe, read the benefits of shopping online and you may change your mind.
Before Shopping for Women's Clothing, Ask Yourself: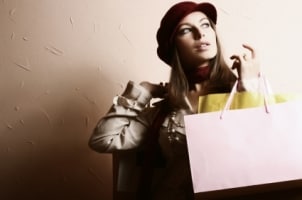 Shop Women's Clothing ▸
What made me want to shop for new clothes today?


Think about what made you want to start looking for clothes in the first place. Maybe you just need a little pick-me-up, something like a scarf or handbag. You might have something specific in mind, too, such as a pair of women's pants, great women's shirts or stylish new women's skirts.

What do I wish was in my closet when I'm getting dressed in the morning?


You're putting together an outfit in the morning. You look in the mirror and you wish you had a jacket that coordinated with the outfit, different dresses to wear to a special event or special women's suits to impress new clients. You'll want to make sure you shop for those women's clothes you always wish were in your closet.

Do I have all of the basics?


Style experts agree that all women need a few basics in their wardrobe: button-down women's blouses in white or another neutral color, a basic black dress, a trench coat or another knee-length women's coat, a pair of dress pants (probably black or tan), cashmere sweaters (possibly turtlenecks), a blazer that accents your figure and a pair of women's jeans that can be dressed up. You may have your own additional list of clothing basics, and when you don't have one of those, you just can't pull outfits together in the same way.

Am I replacing worn-out items?


Whether you need to replace the red party dress that got a stain on it or you need a new basic blazer to dress up your favorite blouses, you don't want to leave any gaps in your wardrobe. Make sure you have all of the clothes you love to wear regularly as well as styles that are appropriate for work and formal occasions.

Do I need to perk up my wardrobe with a few trends?


No one likes to be in a fashion rut. If you feel like your outfits are the same, day after day, then it's time to indulge in something fun. But don't go overboard just because every magazine tells you it's the latest fashion must-have.

What is my signature style?


When you're shopping, remember to consider what clothes you feel good wearing and how you want people to perceive you. If you feel like you are taken seriously when you wear women's suits, feel free to buy them in every color. If you love a vintage style, go ahead and indulge in adorable new dresses or women's skirts. It could even be as simple as always wearing your favorite color. Stay true to your own style and you'll always feel comfortable.
How to Shop Online for Women's Clothing You'll Love
Use the search bar when you know exactly what you want.

When you're typing in a search, try to be precise without being too specific. For example, if you want women's jeans and you'd prefer a boot-leg cut, type in "boot leg jeans," but don't get carried away and type "boot-leg jeans size 28 dark wash with embellished back pockets." You may limit the search too much and miss out on the search results you really want.

Know your size before you start.

Use the Overstock.com Women's Measurement Guide to learn how to properly measure yourself and find your size. When you're online shopping for women's clothing, a measuring tape is your most important tool.

Start with a plan, even if it isn't very specific.

Try to stay focused on the women's clothes you want today, whether that's a new jacket or a new fitted black satin jacket. Unless you're short on time, allow for some browsing; you may just find something you didn't realize you needed.

Don't settle for the first thing you find.

With the wide variety of women's clothing available online, it's worth it to look around until you find the clothes that really suit you. The perfect women's clothes are out there somewhere, so start shopping!
Benefits of Shopping Online
You just can't beat the selection.

Whether you live near a shopping epicenter or you live miles and miles from a mall or boutique, there is always more women's clothing available online.

No hassle when shopping.

There are no lines, no crowds, no pushy salespeople and no heavy shopping bags to carry around. This is especially helpful during the winter holiday shopping season.

The stores are always open.

You can shop when it's convenient for your schedule or when you can't sleep because you don't know what you're going to wear to a big event that's coming up.

You can shop smarter.

Open a few browser windows and shop different stores side-by-side to find the best prices, your favorite color and your size. You can even browse Websites featuring celebrity fashions and compare their looks to the women's clothes you find online.

Stay at home.

There's no need to drive anywhere; you can stay in your pajamas and enjoy saving gas.

Stick to your budget.

Few shoppers sit down and add up their receipts when they're out shopping. When you're online clothes shopping, however, you can keep a close eye on your budget by opening a browser window to check your bank balance or by opening up your computer's calculator.

Get online savings.

The best deals can be had when you sign up for e-mail lists or search for online coupon codes.