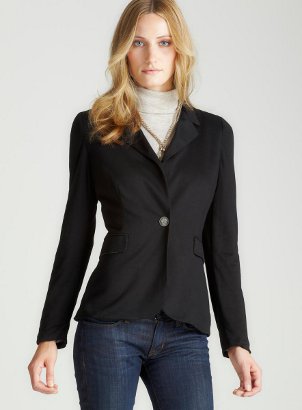 A great pair of jeans can really be your best friend. You know that feeling when you've found that perfect pair of jeans. They become a staple that you can dress up or down, wear with heels or flats. Having more than one pair of go-to jeans, however, can really open up your wardrobe possibilities. These styling tips for every cut of jeans will help you fill your closet with a whole new crop of best friends for your figure.
Making Jeans Your Best Friend:

Boot cut: Thanks to their versatile shape and low-profile look, boot-cut jeans are an all-around favorite for women of every size and shape. Cut slim through the hips and leg with a gentle flair at the opening, these jeans are absolutely ideal for, well, boots, but they also really favor high heels. That doesn't mean they have to be dressed up all the time, though. Throw them on with pumps, a sequined tank, and a black blazer if you're looking to go dressy, and wedge booties, a fitted tee, and a lightweight scarf for a more casual look.

Skinny: Skinny jeans are a big trend right now, and it's probably because they flatter every body type. These slim, low-key jeans are perfect for playing with proportions. That loose, relaxed blouse you love may look too boxy with some of your jeans, but it's the perfect contrast to a pair of slim skinnies. Take advantage of the low-profile of your jeans and start playing with color. Try dark blue jeans with a neon top, or a simple white shirt with colored jeans. The slim cut keeps the color from getting too overwhelming.

Wide leg: Trouser and wide-leg jeans are becoming more and more popular. The elongating style can make you look tall and lean, as long as you style them right. Like skinny jeans, wide-leg styles require some contrasting proportions in your look. To balance out the wider legs, look for fitted tops. They'll keep the look streamlined and slim. A fitted blouse or T-shirt is ideal. Try tucking your top into your jeans and throwing on a pair of heels to really work the tall, lean look. As far as patterns go, keep it simple. A solid color or striped top perfectly and cleanly accentuates your jeans.

Straight leg: This classic look is a classic for a reason. They're clean and simple, and they look great on anyone. Not too skinny and not to loose, straight-leg jeans are the most versatile cut, which means they're the easiest to style. The key to straight-leg jeans is to play to your strengths. If you love your curves, wear the jeans with a fitted top that accentuates your waist and bust. If you're slim and lean, go for an airy top and heels. A faded wash is perfect for a casual weekend, while a darker wash can dress up your look a little.

Flare: Similar to the boot cut, flared jeans have a more emphasized leg opening that starts flaring at the knee. This style became popular in the '70s with the bell-bottom look, but has been refined over the decades. They certainly still have a little throwback appeal, but a good pair of flare jeans can be sleek and modern. Like wide legs, you'll want to wear them with a more fitted top. This is where you can play with patterns and colors a little more, though. Try your flares with a bright floral-print blouse and peep-toe wedges. Simple accessories and jewelry finish off the look.

Buy Women's Jeans
Back to Guides Directory