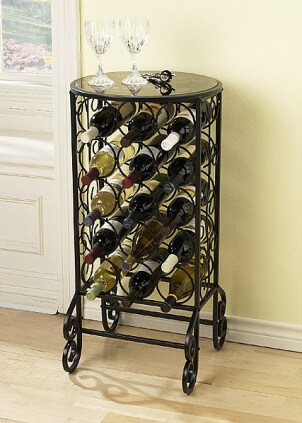 Whether you have a few wine bottles or fifty, you'll need a wine rack to store them properly and keep them fresh for years to come. With so many options to choose from, including wrought-iron wine racks and wall wine racks, you may be unsure of the right storage solution. This guide will provide you with tips on buying the wine storage racks that work best for your home and your wine collection.
Buying a Wine Rack:

Stay small. If you only buy wine occasionally and don't have many bottles to store, a table-top wine rack is a great solution for you. Look for a vertical wine bottle rack made of sleek wood that can hold up to five bottles for a stylish centerpiece on your table when guests arrive. Buy a table-top wine rack made of leather or wood with contoured edges for a wine rack that lies flat on your counter surface.

Use your wall. To free up counter, kitchen and pantry space, why not buy a wall wine rack to hold bottles of your favorite vintage? Look for a circular style you can mount on your kitchen or dining room wall, or buy a sculpted metal wine rack with multiple shelves to hold more bottles. You can often find a wrought-iron or chrome wine rack that holds wine goblets, too, for another space-saving feature.

Fill your cellar. When you have a large wine collection, you want a sturdy wood wine rack to hold all of your bottles. Look for expandable wine storage racks that include extra joining pins for when you expand your collection. If you want a different look, buy a wood wine rack with lattice cube styling, in which you stack bottles on top of one another. This wine bottle rack allows you to fit more bottles into your pantry or cellar easily.

Look for multitasking racks. Free up space in a small home or apartment and buy a wrought-iron wine rack that doubles as a glass-topped table. You can also shop for a metal wine rack that includes extra shelves for displaying dishes or other kitchen supplies. A tall, multilayered chrome wine rack with pretty scrollwork can even serve as a room divider in your dining room.

Keep bottles tucked away. Use the extra space in your kitchen and buy an under-cabinet wine rack. You can choose between a rustic wooden style and a vintage metal type that holds 10 bottles or more. Protect your wine collection by storing the under-cabinet wine rack away from appliances that might vibrate and cause the bottles to crack.

Buy Wine Racks
Back to Guides Directory