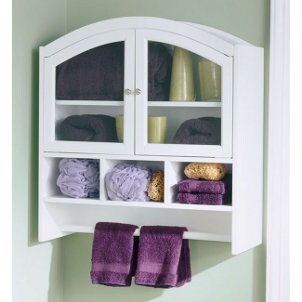 The addition of a striking bathroom cabinet can upgrade your bathroom from forgettable to fantastic. The bathroom is by no means a room known for its decoration fashion, but all that can change with the quick and easy addition of a bathroom cabinet. These fashionable bathroom cabinets aren't getting the credit that they deserve. Their deceptively simple and straightforward function often goes ignored and forgotten. Below are a few important reasons why you should own a bathroom cabinet.
Bathroom Cabinet Features:

Attractive bathroom decor. Let's face it; decorating a bathroom can be a tricky thing to pull off. Introducing a bathroom cabinet goes a long way in getting the job done. These cabinets are fashion statements in themselves and come in a couple of different options. There is the standard floor cabinet, the classic bathroom corner armoire, and wall-hanging cabinets. Add a few accessories to the bathroom cabinet for an instant update and beautiful decor. Just because it's a bathroom doesn't mean you can't personalize it. Flowers and plants will thrive in your bathroom because of all the moisture; orchids are always a popular choice for bathroom floor cabinets, as are ferns. Photos, silk flowers and bath-themed decor are also popular. These personal touches go a long way in jazzing up your bathroom.

Extra bathroom storage. Have you ever noticed how little bathroom storage there is in your bathroom? There are usually a few mini shelves behind your mirror or a cabinet under the sink, but not much more. By investing in a bathroom cabinet, you'll get extra storage; if you get a floor or corner cabinet, it's also easy to redecorate. Simply pick up your bathroom cabinet and move it from one corner to another. You can store your bathroom towels, cosmetics and extra rolls of toilet paper without cluttering your bathroom vanity. If you choose to invest in a wall hanging cabinet, you still get to keep all your floor space while inheriting the extra storage space. These are better options if your bathroom is small.

Reading material protection. Many people keep books and magazines in their bathroom. With the lack of bathroom storage, most people keep their reading material on their bathroom vanity. The risk with this is that books and magazines may be over-exposed to water and their pages will warp. By placing them in your bathroom cabinet, you can protect them from the extra moisture in the air, water leaks on the floor and splashes from the sink.

Buy Bathroom Cabinets
Back to Guides Directory