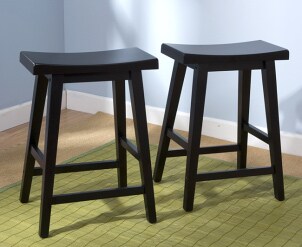 A list of traditional bathroom furniture usually doesn't include a bar stool. However, this traditional bar furniture is slowly gathering popularity for its versatility. A bar stool is good for more than just sitting at a kitchen counter. You can just pull your bar stool right up to the vanity and enjoy the benefits it has to offer. Keep reading for more reasons why you should have a bar stool in your bathroom.
Bar Stools in the Bathroom:

Sitting. Most people use a bathroom bar stool for sitting at when they get ready in the morning or for an important event. Sitting at a bar stool in front of your bathroom vanity makes shaving, styling your hair or clipping your nails much easier. Bar stools in bathrooms aren't just for adults either. If you have children or if you watch children on a regular basis, you know that getting ready takes almost twice as long when there's a child involved. Having your child sit on a bar stool will help keep her from getting tired from standing while you style her hair.

Extra height. Reaching the sink can be a daunting task for smaller children. Bathroom furniture, such as a bar stool, is a perfect solution for those who are challenged by the height of bathroom vanities. A short barstool gives children a place to sit or kneel and easy access to the sink while they brush their teeth.

Display. Your bathroom can be decorated just like any other room in your house. In addition to function, a bar stool is also ranks high in aesthetic value. Adding a bar stool that matches your other bathroom furniture to the room will make it look like it's part of the same set. Place your bar stool in the corner and display accent pieces or photography there. Plants like ferns or orchids usually thrive in bathrooms due to the humidity.

Storage. Use your new bathroom furniture to store items like magazines or extra tissue paper. The barstool will keep your paper goods off the ground, which then protects them from potential leaks or puddles. Keeping items like that on a bar stool also ensures your necessary items are always within easy reach.

Buy Bar Stools
Back to Guides Directory