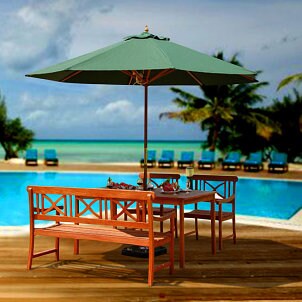 Relax on your patio throughout the heat of summer when you buy sun shades for your home. With a large patio canopy, a few outdoor sun shades and patio umbrellas, there's no reason to stay inside during the hottest days. Read on for a few reasons to buy patio sun shades this season.
Buying Patio Sun Shades:

Find shades for a party. If you have friends over for a barbecue, you'll need a patio canopy or two to shield your garden tables and chairs from the sun. Look for durable outdoor shades made of canvas or olefin fabric guests can sit under; patio sun shades with tilt features and adjustable heights are excellent investments for your home. Outdoor shades can also protect friends and the food you're serving from rain and insects. To avoid having an umbrella pole between you and your guests, look for patio umbrellas with shades that can extend over the patio tables.

Buy shades to protect your pool. Why swim in your backyard pool during the heat of the day and risk getting sunburned? A sun shade canopy placed in a corner near your pool can provide you with necessary shade. Placing a sun shield over your spa can also create a sanctuary and a relaxing place to talk with friends. Make sure you purchase sun shades that are waterproof and fade-resistant so they won't be damaged by the pool or constant sun exposure.

Shade your lawn chairs when you're relaxing. On a casual afternoon, patio shades can create a cool, dark environment where you can read a magazine or take a nap. If your patio is small, you'll want to buy outdoor sun shades that can easily be folded and stored; 10-foot porch shades will work well for a large, open patio or garden. A sun shade canopy can even create shade in the yard when you want to have a family picnic on the grass.

Create shade and color in your garden. Porch shades can protect delicate herbs and flowers from the sun and add color and texture to your garden. Look for patio shades with sturdy bases you can use to shade a flower bed or a barrel of herbs. A striped sun shield can also shade a garden bench or a few lawn chairs and provide a whimsical touch to your garden.

Buy Patio Umbrellas and Bases
Back to Guides Directory