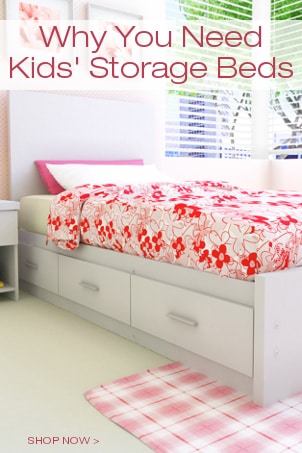 If you're shopping for kids' beds, you'll want to make sure you take a look at storage beds. The storage they offer is helpful for anyone, but it's especially good for a child's bedroom. Not sure they're right for your child? Consider these reasons to buy kids' storage beds.
Benefits of Kids' Storage Beds:

Kids' storage beds serve double duty. When you buy a storage bed, you will have a piece of bedroom furniture that can multitask. Kids' storage beds fulfill two roles: a place to sleep and a place to store kid's items. It's like getting a two-for-one piece of furniture for your child's room.

Kids have lots of stuff. Between toys, clothes, art supplies, and books, kids have a lot of stuff, and it all needs to go somewhere. If your home doesn't have a lot of built-in storage, then you'll need to add some, and a bed with storage is the perfect solution. You can use it along with dressers and shelves, or let the bed replace other storage. Some storage beds have bookcases in the headboard, so your little one can keep bedtime stories close at hand. Storage beds with drawers underneath work for toy storage or clothing storage.

Cleaning up is easier with lots of storage. Kids aren't usually naturally good at cleaning up their rooms, but you can help them learn how to tackle the task with a storage bed. All the storage options in the bed make it simple for them to stash everything quickly, so they can feel a sense of accomplishment and know they completed their chore well. And they can get back to having fun!

It will be easier to share a bedroom. Do you need to fit more than one sibling in a bedroom? If each child has a storage bed with drawers, you can use those instead of a dresser, making it easier to fit in all the other stuff that multiple kids will need. And if each child has their own place to store their belongings, it will be easier to keep the peace. To fit even more into a shared bedroom, shop for a bunk bed with storage.

Kids' storage beds are stylish. Bedroom furniture needs to be aesthetically pleasing as well as functional. You can find kids' storage beds in colors and materials that will work in any style of bedroom, from traditional to contemporary. Most children's beds are twin size, and you can find a wide variety of twin-size bedding that will suit your child's taste.
What Do You Want to Do Next?

Shop Kids' Storage Beds
Shop Bunk Beds
Shop All Kids' Beds
See All Guides
Read More Furniture Guides
Learn More about Kids' Furniture