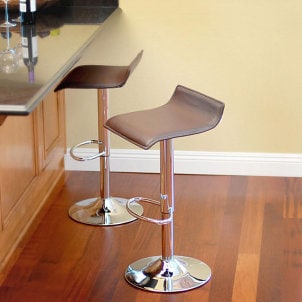 Most people think of bars and pool halls when they hear the word bar stools. However, bar stools are natural additions to any home. Bar stools offer more than just seating; they also offer style and functionality. Not only are they extremely convenient for seating extra guests; they also have many day-to-day uses for your home. Keep reading to discover why you need bar stools in your home.
Reasons to Buy Bar Stools:

Convenience. Most furniture is heavy, clunky and difficult to move once it is set down. Bar stools are more versatile. Their size makes them light and easy to move and rearrange at a moment's notice. You won't have to worry about throwing your back out or making unsightly scratches on your wooden floor when you're moving your bar furniture around, and if you don't like where you put the bar stools, you don't have to worry about calling in a furniture moving team. It's easy to do it yourself.

Decoration. Bar stools come in many colors, styles and materials, so they make decorating easy. Bar stools are readily available in leather, upholstered material, wood and metal. All these options make it easy to match a set of bar stools to your already existing home decoration. Pick the style that best complements your home and then watch how flawlessly barstools blend into the room.

Ambiance. Bar stools create a welcoming, casual and friendly atmosphere in your home. These informal and comfortable seats invite your guests to sit a while and visit. Place a few padded bar stools in your living room when you're having a party or on your patio for a summer barbeque and watch your friends and family congregate.

Versatility. Many bar stool seats are adjustable. If your bar stool chairs aren't quite the right height for kitchen counters or guests, you always have the option to raise or lower the seats to a more comfortable height. It's like having several bar stools in one.

Height. Bar stools can be used as seating in any room. They work well at kitchen counters, at the dinner table, at card tables and even at your bathroom mirror. In addition, they're perfect for a little height boost when you're trying reach for something on a top shelf.

Buy Bar Stools
Back to Guides Directory