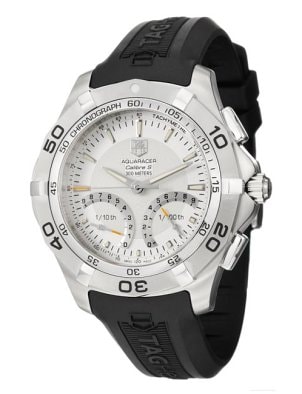 Sophisticated and classic, a TAG watch embodies precision movement and a history of innovation. Whether you choose the sporty Formula 1 model or the sleek Aquaracer style, when you purchase a TAG Heuer watch, you'll get all the benefits of a multifunctional sports watch in the refined package of a luxury watch. If you're still wondering why you need a TAG watch, keep reading.
Reasons to Buy a TAG Watch:

A TAG Heuer watch will last forever. Passing your watch down as an heirloom isn't a thing of the past when you buy a TAG Heuer watch. The renowned durability of a TAG watch means it will stay in top condition for as long as you own it. Made with reliable Swiss watch mechanics, your watch will have the best parts money can buy to keep it ticking.

There are 150 years of watchmaking history behind each TAG watch. Makers of Swiss avant-garde watches since 1860, TAG Heuer is constantly revolutionizing the watchmaking industry. From the world's first square-faced sports watch to a luxury watch modeled after precision timekeeping clocks used in the Olympic games, TAG Heuer is committed to reinventing the wristwatches using the technology that first made them world-renowned.

TAG Watches are iconic classics. From movie stars like Leonardo DiCaprio to sports greats like Maria Sharapova, TAG watches can be seen on the arms of celebrities around the world. TAG watches have been featured in many movies and draw their inspiration from classic Hollywood stars and legendary racers. For years, stylish TAG Heuer watches have been making a bold statement, and when you purchase one, you'll get to experience the extravagance of a TAG watch for yourself.

Every man needs a luxury watch in his wardrobe. A luxury TAG watch can add dimension to any clothing item you own and gives your work attire instant sophistication. A distinguished luxury watch can be the only jewelry you need or it can be a stunning sidekick to other accessories, like cuff links. Whether you're a collector who already loves men's TAG Heuer watches or someone looking for an essential new addition to his style, TAG watches will be the watches you turn to time after time for instant polish.

Buy TAG Heuer Watches
Back to Guides Directory