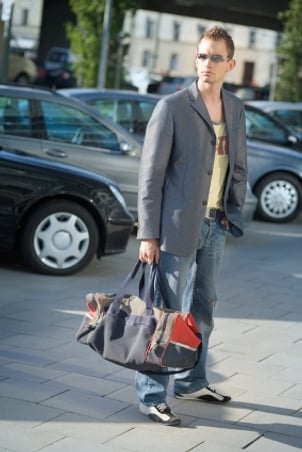 Duffel bags are the perfect overnight bags, weekenders, travel luggage, and gym and sports bags. A large duffel bag is even more helpful because it can take the place of multiple small pieces of luggage. Are you thinking about buying a large duffel bag for yourself? With so many great features, this is an essential piece of luggage to have.
Large Duffel Bag Features:

Wheels: Large duffel bags can get heavy fast, so having multiple carrying options is definitely in a rolling duffel's favor. Wheeled duffel bags can carry everything you need to pack, and they provide the option of rolling your luggage behind you instead of lugging it around. Rolling duffels save your arms and shoulders from extra stress; plus, they allow you to strap your purse or carry-on to the telescoping handle to make carrying your stuff even easier.

Drop bottoms: A drop-bottom compartment provides extra storage for things you need to keep separate from the items in the main compartment of the duffel, such as dirty laundry. Wheeled duffel bags often have drop bottoms, much like many upright suitcases have expanding compartments. Drop bottoms are made of more durable material than the rest of the bag to protect your belongings when the bag hits the floor.

Heavy-duty construction: Many people love large duffel bags for their heavy-duty construction that allows them to be so versatile. Duffels made of ballistic nylon or polyester with rip-stop accents and self-repairing zippers are the toughest bags. This heavy-duty construction makes for the perfect sports bag to take to the gym, playing field, or diamond. Use durable duffel bags to carry balls and rackets or bats, shoes, protective gear, a change of clothes, and the toiletries you need to clean up after the game.

Packing ability: Get where you need to go and take all your stuff with you. Large duffel bags have room for everything you could need to take with you. While most duffels only have one large main compartment, bags with drop bottoms and outside zippered pockets offer plenty of packing space. Look for duffels that also have interior tie-belts and exterior compression straps to keep everything in its place.

Buy Duffel Bags
Back to Guides Directory