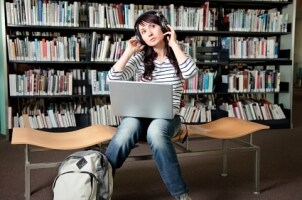 While there are several kinds of laptop bags available, laptop backpacks remain a popular laptop transportation option for several reasons. Laptop backpacks are constantly changing to accommodate different laptops and accessories, meaning there is a huge selection of laptop backpacks, as well as other laptop bags, for you to choose from. When you understand why laptop backpacks are so popular, you'll be able to sort through the options and extra features to find the perfect laptop backpack for you.
Laptop Backpack Features:

Convenience: Laptop backpacks, especially rolling laptop backpacks, are some of the most convenient laptop cases you can get. Many laptop backpacks have extra features, like removable laptop sleeves, and specific pockets and compartments for your laptop, power cord, mini mouse, flash drives and other laptop accessories, making it easy for you to take everything you need to work on your computer everywhere you go. The design of your new black laptop backpack is also convenient: One easy zipper reveals the computer, while other zippers and flap closures keep your accessories organized and accessible.

Safety: Laptop backpacks are one of the safest laptop bags. Other laptop bags can bang against your leg as you walk to the office or be accidentally dropped. Leather laptop backpacks rest securely against your back, preventing jangling or dropping, and are professional enough for the office, too. The best laptop backpack will have lots of foam padding to protect both your computer and your back. An extra laptop sleeve will keep it even safer from minor jostling and scratches.

Versatility: If you need a versatile laptop bag, laptop backpacks can't be beat. Most laptop cases can hold more than just a laptop and accessories, such as notebooks, pens, textbooks, CDs and file folders, and many black laptop backpacks and leather laptop backpacks can expand even more to hold your school supplies or business documents.

Easy to carry: Laptop backpacks are easier to carry than other laptop cases and can be easier on your body, too. Traditional shoulder-strap backpacks evenly distribute the weight of your laptop across your shoulders while leaving your hands free to open doors and carry lunch. Rolling laptop backpacks combine these features with the ability to wheel your laptop behind you, reducing stress on your shoulders and back if your bag is particularly heavy. Whichever style you prefer, the best laptop backpack for you will be easy to carry even when it's full of stuff.

Buy Laptop Backpacks
Back to Guides Directory