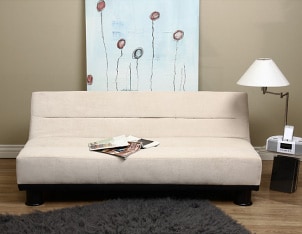 It's hard to beat a futon when it comes to adaptable furniture. A quality futon can be a major asset to just about any room in your home. Even with the widespread popularity futons have attained, it is hard to believe there isn't at least one futon in every home. If you are one of the futon-less individuals out there, you are missing out. Futon beds are so flexible, and there is no home that couldn't benefit from one or two. If you still haven't taken the futon plunge, here are a few reasons why you should.
Why Get a Futon:

They're an automatic guest room: When unexpected guests come to call, you won't have to scramble to find them a place to sleep if you have a futon bed. Just fold it back, slap on some sheets and blankets and voila; you have an instant guest room. Your futon mattress just might be comfortable enough that you'll start getting more visitors. Any time you need some overflow sleeping space, you will be glad you are ready with your futon. If yours is already a high-traffic home, get prepared with a futon.

They're washable: You can't actually toss a futon mattress in the washing machine, but you can use futon covers, which are usually machine washable. Just zip a futon cover around your futon's mattress and you'll never have to worry about spills again. Make sure to use one each time someone sleeps on your futon sofa.

They're cheap: Instead of buying a pricier sofa, try furnishing at least one room in your home with a futon. You can often find futons for sale at very affordable prices. Even if you buy one at full price, it will still be cheaper than a sectional sofa and many other sofas.

They're good for nearly every room: Whether you are putting a futon bunk bed in a child's room or a futon sofa in the living room, futon beds can be used just about anywhere in your house. If you aren't sure where futons would fit in your home, just look around. Anywhere a bed or sofa belongs is a prime spot for a hip, modern futon.

Buy Futons
Back to Guides Directory