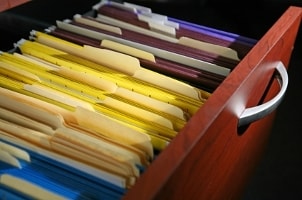 A large part of running your office is organization, and the right file folders can help you keep reports, invoices and other important documents in their place. Folders are also good for organizing presentation and marketing tools for distribution. They're another basic office supply tool to help you bring things together. File folders have a number of effective uses, and the list below will tell you which folders you need and why.
Buying File Folders:

Manila folders: Plain, tabbed manila folders are just part of office organization basics. Most of your personal or office records are probably going to be organized in manila folders. You can make organization easier by printing clearly visible labels for the tabs. Colored tabs, staggered through the filing cabinet, will be easier to thumb through and read. So, you can find the folder you're looking for and get back to work.

Hanging file folders: If you have a filing cabinet, hanging file folders are a necessity. These folders feature metal hooks for sliding along the rails inside cabinet drawers. You can use hanging file folders to further organize your manila file folders into appropriate sections.

Pocket folders: Pocket folders are great for creating packets of materials to be distributed to clients. For instance, an apartment manager could assemble a packet of informational materials and pamphlets about the building rules and amenities for new tenants.

Expanding file folders: These folders typically have an accordion shape that allows them to expand to hold large numbers of documents. Expanding file folders are ideal for storing a group of related documents for long-term storage or shipping.

Presentation folders: A sleek presentation folder with a clear plastic cover and a clip binding can be the perfect way to present a report or proposal. They come in multiple colors and binding types, which allows you to create a theme of color and style that matches your presentation.

Buy File Folders
Back to Guides Directory