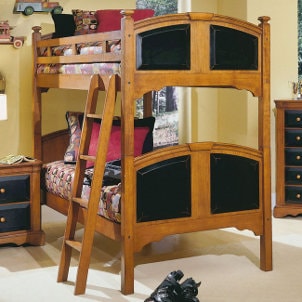 Bunk beds are a great addition to any kid's room. Bunk beds are practical, providing extra bedding with no extra work, and fun, making your house the sleepover destination of choice. If it's been a while since you last looked at bunk bed furniture, you'll be amazed at how far it's come. Deciding Which Bunk Bed is Right for Your Kids? can be a fun family project.
Buying Bunk Beds:

Why choose bunk beds?
Bunk beds are an efficient way to save space in a small bedroom. By stacking the beds one on top of the other, you lessen the required floor space for sleeping two children. Bunk beds are also a great way to provide an extra bed for sleepovers. With a bunk bed, you have a bed ready to go -- no need to deal with blowing up an air mattress or making guests sleep on the floor.

What are bunk beds made of?
Unless you have a bunk bed custom made, and probably even if you do, you'll be choosing between wood and metal for your bunk bed frame. Metal bunk beds and wooden bunk beds can be equally sturdy and durable; it's simply a matter of choosing which look you prefer. Wooden bunk beds can offer fun cut-out shapes while metal bunk beds can provide simpler lines.

What are the safety issues with bunk beds?
Bunk beds have come a long way in terms of safety. Gone are the days of little sleepers rolling off and landing on the floor. Today's bunk beds have safety rails and solidly built ladders for accessing the top bunk. You do want to make sure your child is comfortable using a ladder before stranding him on the top bunk for the night; but if he's not, the bottom bunk is an option, as is a bunk bed with a slide!

What are the newest innovations in bunk beds?
Bunk beds come in all shapes in sizes. Options include twin-over-twin, twin-over-queen, even triple bunk beds! You can get a bunk bed shaped like a boat or one with a castle theme. One of the best bunk features is built-in shelving; if you're looking to save space, then having bookshelves as part of the bed is a perfect solution. Other optional features include a slide for an easy dismount from the top bunk and a tent that fits over the bottom bunk for privacy (or a fort).

Are bunk beds just for kids?
Not anymore! Bunk beds are now available with futon bottoms, so they can serve as a couch in a guest room while still providing an extra bed when family comes to call. There are also bunk beds with no bottom bunk -- and these are ideal for clearing floor space for a desk or study area in a teenager's room and discouraging the use of the bed as an extra closet.

Buy Beds
Back to Guides Directory