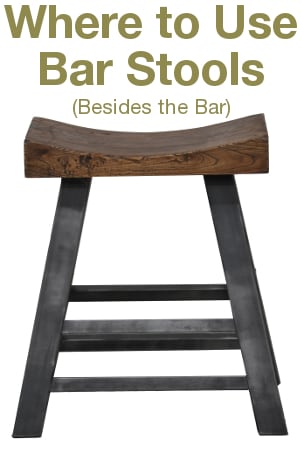 SHOP BAR STOOLS NOW >>
Because of their name, bar stools are usually limited to serving as seating at bars, when in reality they are perfect for many other places around the house. Their height makes them an ideal addition to rooms besides the kitchen. Once you see what else you can do with bar stools, you'll wonder why you went so long before placing them everywhere.
Other Places for Bar Stools:

Bedroom: Bar stools are at an excellent level to place in front of your vanity mirror. These small and fashionable stools won't take up much room, are easy to store, and are a perfect seat for a quick look in the mirror to fix your hair, apply your make-up, and tie your tie to perfection. Just sit down and perfect your look before going out for the night. Who knew bar stools were such a necessary part in getting ready for your night on the town?

Game room: By providing bar stools in your game room, you'll encourage your game night guests to stay longer. Instead of trying to find a comfortable seat on the floor, you and your guests can sit comfortably on padded bar stools around a game table and play board games, card games, or a friendly game of poker.

Kitchen: Placing bar stools in your kitchen will only make your life easier. Not only can they serve as extra seats at the table for unexpected dinner guests, they'll also make terrific permanent seats for your kitchen island. Bar stools are easy to pull up when someone needs help with their homework, or for when small children want to watch or "help" with a meal. You can also use bar stools at the kitchen island for a casual meal. A bar stool is the perfect height for use in the kitchen.

Bathroom: Bar stools are great to use in the bathroom, too, especially for families with young kids. Preparing for school can go smoothly; all you need to do is sit your kid up on the bar stool and then work your magic. This way, your child won't get tired of standing and you won't have to bend over to fix his hair or help brush his teeth.

Craft or hobby room: Whether you're working on a quilt or building a model airplane, you need a good place to sit. A barstool is a great choice if you work at a drafting table for your hobbies. If you move between a few surfaces, like between a sewing machine and an ironing board, an adjustable bar stool would be an excellent addition to your craft room.

Shop Bar Stools
Shop Bar Tables
Shop All Dining Room Furniture
See All Guides
Read More Furniture Guides
Learn More about Dining & Bar Furniture
Published March 11, 2011
Updated December 9, 2014