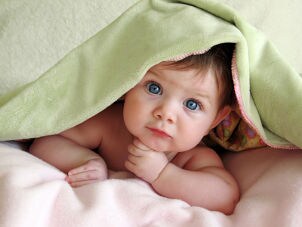 When you're shopping for a baby crib, baby crib ratings can help you find what you're looking for, especially when you're shopping online. A crib is possibly the most important piece of baby furniture you'll buy, so you want to make sure it's the best. Reading baby crib ratings can help you find the best crib for your little one, and the following tips will teach you what you need to know about baby crib ratings.
Baby Crib Ratings:

Safety: You can easily learn about the safety features of a crib from crib safety ratings as well as customer reviews. The safety of your baby crib can depend on the width of the slats, the fit of a standard crib mattress and even the quality of the crib. Reading crib safety ratings can give you an idea of what other parents have found when they use the crib.

Assembly: If you're concerned about how difficult a baby crib will be to assemble, baby crib customer reviews can help you get an idea of what the assembly will be like. Parents who have previously purchased the same crib will frequently give crib ratings and reviews about how easy the baby crib is to assemble. Cribs with easy assembly will usually receive higher reviews than baby cribs that are difficult to assemble.

Quality: The quality of a crib is easy to determine with baby crib quality ratings. Parents who have bought a crib will review it based on quality and then post the baby crib reviews on shopping sites and parenting blogs. Baby crib quality ratings will indicate the quality of the materials and construction of the crib, and crib ratings and reviews will also frequently state how long the crib has lasted.

Looks: When you're shopping for baby cribs online, it can be hard to picture how a certain crib will look in your nursery from pictures alone. Baby crib reviews can help you get a better picture by indicating how closely the crib images match the appearance of the actual crib. You can get a better idea of finishes, colors and even quality with informative customer reviews.

Size: While most baby cribs are a standard size, there can be slight variation that can affect the appearance and the safety of a baby crib. Read crib customer reviews to help you determine the size of a crib. Whether you're looking for a crib to fit in a specific space or you want to make sure the baby mattress you have purchased will fit in the crib, baby crib ratings can help you find the right size crib for your needs.

Buy Cribs
Back to Guides Directory