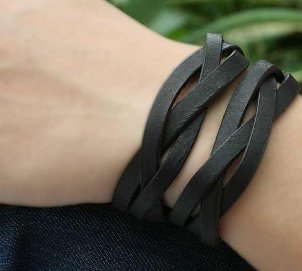 Consider leather bracelets the next time you are shopping for cutting-edge jewelry. Leather has always been popular in fashion accessories, but it can be difficult to work bold leather pieces into your current look. Leather bracelets bring just a touch of the exciting look to an outfit. Wearing bracelets made of leather takes some thoughtful mixing and matching to achieve the desired style. Too much leather can overpower an outfit; the wrong leather bracelet styles can make your look seem cobbled together. Use these tips to pair leather jewelry with clothing and accessories in a way that is fashion-forward and artistic.
Wearing Leather Bracelets:

Casual: Leather jewelry brings interesting, edgy style to your casual wardrobe. Leather bracelets easily go with jeans and T-shirts. Avoid pairing leather jewelry with leather pants, leggings or jackets. Too much leather will overpower your casual style. Leather boots, bags and headbands go well with leather bracelets. Choose from braided leather bracelets, leather cuffs and mixed material leather jewelry when dressing casually. You can also layer these bracelets with other pieces. Keep your look interesting and textured by wearing leather bracelets with yellow gold link bracelets and colorful beaded bracelets.

Dressy: Leather bracelets can easily be worn to the office and when dressing up for a party or formal event. Avoid distressed leather bracelets when putting together a dressy look and opt for sleek leather cuffs and metal jewelry with leather accents. Colorful leather bracelets are good for casual ensembles, but stick to black, brown or white leather bracelets when dressing up.

Jewelry: You can pair your leather bracelets with a variety of other pieces of jewelry. Keep the total number of pieces of leather jewelry to two or three if you are interested in avoiding looking like you have just spent months in the forest. Gold and silver jewelry both go well with leather bracelets. Gemstone jewelry is also a good option for pairing with leather pieces. Pair a braided leather bracelet with a turquoise cocktail ring and a pair of silver chandelier earrings or wear a leather cuff with a beaded bracelet and a long necklace with an oversized garnet pendant. Use colors and metal to enhance the look of your leather bracelets.

Buy Bracelets
Back to Guides Directory