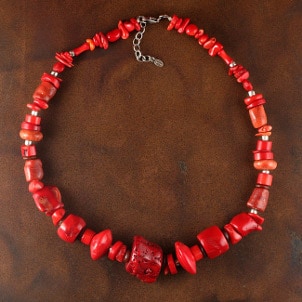 When you invest in a stunning piece of handmade coral jewelry, you'll definitely want to show if off. Coral jewelry may feature red, pink, peach or orange coral. These bright colors will add a lot of style and beauty to your collection. It's easy to pair handmade jewelry with the items of clothing and the pieces of jewelry that you already own. Use these tips to make a big impact with fantastic handmade gemstone jewelry.
Best Ways to Wear Coral:

White clothing: Handmade jewelry is often ornate and elaborate, and coral gemstone jewelry is no exception. Let these gems shine by wearing neutral colors. Pink, red and orange coral looks great with white clothing. Wear a stunning handmade coral bracelet with a pair of white jeans and a beige silk top. Your new handmade coral necklace will look amazing with a floor-length white summer dress and a pair of turquoise sandals. Handmade coral earrings will add a lot to a simple outfit comprised of jeans and a crisp white shirt. Allow your handmade gemstone jewelry to stand out against a neutral background.

Gold jewelry: Handmade gemstone jewelry often has the feel of having been created in another time period. Gold jewelry also has an antique vibe. When wearing coral gems, consider adding a few pieces of gold jewelry to your ensemble. A pair of coral earrings looks nice with a simple gold link bracelet, whether you are dressing up or keeping it casual. A bold gemstone necklace with bright red coral can easily be paired with stackable gold bands in yellow gold, rose gold and white gold. Don't hesitate to bring out your gold jewelry when you want to showcase your new handmade coral baubles.

Worldly pieces: Everyone will think that you purchased your new handmade gemstone jewelry while on an exotic vacation if your pair it with the right clothing and jewelry. The well-traveled look is very trendy and it can also connect you to other cultures. Consider wearing handmade coral jewelry with breezy cotton gauchos, a simple tank top and a bronze bicep bracelet. This look will take your coral jewelry from the farmer's market to dinner in style.

Buy Handmade Jewelry
Back to Guides Directory