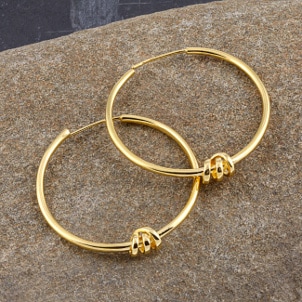 Highlight your beautiful skin with gleaming gold jewelry. Gold jewelry looks stunning against all skin tones and it can be worn with anything in your wardrobe. You can choose between yellow gold jewelry and white gold jewelry in a variety of styles to suit your fashion preferences and project your individuality. You'll make the biggest impact when you combine jewelry and apparel in unique and creative ways; these ideas can inspire you to craft looks around bright gold jewelry.
Wearing Gold Jewelry:

Leather: Wear your gold with leather jewelry or apparel to create contemporary texture. Yellow gold can be paired with light brown leather necklaces and bracelets to give your style a tribal vibe. White gold can be worn with black leather jackets or leggings for chic biker style. Don't hesitate to mix shiny yellow gold jewelry and shimmery white gold jewelry with all of your leather pieces.

Denim: Gold jewelry may seem dressy, but it looks fabulous with your favorite pair of jeans, too. Both yellow gold and white gold look nice with denim. Create a stir by wearing dark skinny jeans with heels and piles of yellow gold bracelets. Layer white and yellow gold necklaces and charms to accessorize a pair of flared jeans. Gold jewelry will add sparkle to a denim mini skirt, a denim jacket or denim leggings.

Smocked dresses: Gold jewelry has a natural Bohemian vibe. Pair yellow gold necklaces and stacks of white gold bracelets with your favorite summer dresses. Gold accents both solid dresses and patterned fabrics in a variety of colors. Gold chandelier earrings will give the outfit a touch of worldly style. Mix and match gold jewelry with smocked dresses in a variety of lengths.

Swimsuits: Gold jewelry is durable, and it cannot be damaged by chlorine like sterling silver can be. If you want the look of a summer goddess, pair layers of yellow and white gold jewelry with your cutest new bikini. Rings, bracelets, anklets and necklaces go great with swimwear. Style your hair up to show off a pair of gold earrings or wear gold body jewelry to the beach. Gold belly chains and body chains are very sexy additions to swimsuits.

Buy Gold Jewelry
Back to Guides Directory