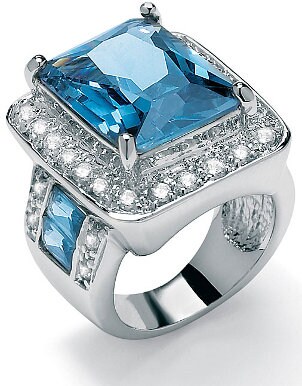 Right now one of the trendiest pieces of jewelry is the cocktail ring. Cubic zirconia cocktail rings allow women to indulge in extravagant rings without emptying their bank accounts. Cubic zirconia rings are available in a range of styles and each is very durable. High-quality cubic zirconia cocktail rings can be found in every price range. You can choose from cubic zirconia rings with sparkling clear stones or colorful gems set in sterling silver, white gold, yellow gold or gold-plated silver. Now that you are aware of the many stylish options available in cubic zirconia jewelry, use these tips to fashionably pair cocktail rings with the clothing and jewelry you already own.
Wearing Cubic Zirconia Rings:

Jeans: Cubic zirconia jewelry can easily be worn with jeans. When getting ready for school or a Saturday afternoon at the mall, splash your outfit with the color and shine of cubic zirconia rings. When wearing bold cocktail rings, keep your clothing options simple. Skinny jeans and tailored trouser jeans look best with cubic zirconia cocktail rings.

Suits: A cubic zirconia cocktail ring is the perfect piece of jewelry to wear to the office; the bold touch of shine will complete a workday ensemble. When wearing colorful cubic zirconia cocktail rings to work, choose a well-fitting suit in a neutral hue and avoid wearing too many patterns. When you keep your outfit minimalistic, you'll really help the ring to shine.

Formal dresses: Don't be afraid to wear cubic zirconias to a formal event. No one will know that your stunning pink cubic zirconia cocktail ring isn't a rare diamond piece. Clear cubic zirconias are also a good choice when accessorizing a formal ensemble.

Casual dresses: Your collection of cute vintage dresses can be difficult to accessorize. Grab a few different cubic zirconia cocktail rings in a variety of colors and styles and you'll always have something to wear with casual dresses. Bring out the colors in a retro pattern with red, pink, yellow, green and blue cubic zirconia jewelry.

Jewelry: A cubic zirconia cocktail ring can stand on its own when you are accessorizing an outfit, making it the ideal choice for busy women. If you want to add extra glamour to the look, however, feel free to add a long necklace or a delicate chain bracelet to the ensemble. Avoid bold bib necklaces and thick gemstone bangles when wearing cocktail rings. One piece of statement jewelry is perfect.

Buy Cubic Zirconia Rings
Back to Guides Directory