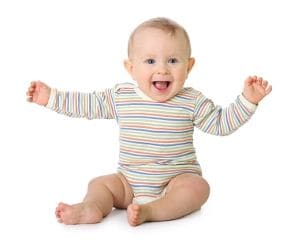 A baby memory book is a wonderful way to collect precious items from your child's first years. The early years of your baby's life will pass in the blink of an eye, so using albums to document that time is important. By holding on to some meaningful items in a baby memory book, you can keep the memories alive and share them with your child and the rest of your family. Your baby book will be a work in progress, as you will want to add things as your baby grows. Coming up with ideas of what you would like to put in it ahead of time can help you be on the lookout for special pieces, so that when assembly time comes, you have a full stash of important items.
What to Include:

Selecting photos for your baby's memory book should be a thoughtful process. While you will likely have piles of photos of your child after just the first few months of his life, it is important to know which ones to select for his baby book. Focus on pictures that will help tell the story of your baby's life. Photos of momentous occasions, such as the day your baby came home from the hospital, your little one's first steps and photos of birthdays and holidays, are all fantastic additions to a memory book.

Mementos will be an important part of your baby's memory book. Precious mementos are often overlooked but are ideal items for a memory book. When your child no longer wants her first handprints or footprints displayed proudly in her room, move them to a memory book where they will be safe for years to come. Other mementos for your baby book may include a lock of hair from baby's first haircut or the tiny bow that she wore home from the hospital. Hold on to extra baby shower invitations, baby announcements and congratulatory cards as these all make excellent keepsakes.

Many items that are typically discarded can be used in a memory book. Pieces of items that will remind you of a special time are great additions to a baby memory book. Hold on to that extra scrap of wallpaper or wall border from the nursery and you can look back long after the room has been redecorated to make way for your growing child's new tastes. Before throwing away a worn blanket or piece of clothing that is no longer wearable, look for salvageable pieces and cut out a portion of the fabric to include in the memory book.

Journaling can help bring your memory book to life. Many baby memory books have spots for notes and journaling, but even if you are creating a memory book from scratch, you can add your own personal thoughts to the pages to keep track of important dates and milestones. Adding personal, handwritten notes and stories can also help to tell the story of your baby's first years. These notes will be especially enjoyable for your child to read when she is older.
Baby Memory Book Tip:

Grouping similar items together can help keep your baby's memory book organized. Try pairing a picture of baby's first haircut next to a lock of hair or matching one of the first pictures of your child with a story about the day you brought him home from the hospital.

Buy Albums
Back to Guides Directory