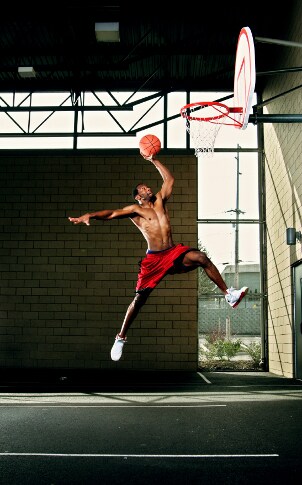 Whether you're on a team or just like to shoot hoops with friends, men's basketball shoes can either make or break your game. The right athletic shoes will help you make slam dunks and run up the court for a pass while keeping your feet in proper balance and alignment. Improper athletic shoes can have the opposite effect. The following tips are designed to teach you what to look for in men's basketball shoes so you can get the most out of your game.
Shopping for Basketball Shoes:

Comfort: First and foremost, your basketball shoes should feel comfortable while you're on the court. Make sure the shoes you purchase aren't too tight or too loose in any area and that the basketball shoes don't rub your feet. Another important factor in comfort is weight. You'll want your basketball shoes to feel light, rather than heavy, on your feet. Mesh sections on men's athletic shoe uppers keep your shoes lightweight and also provide ventilation to keep your feet from getting too hot.

Performance: The performance of your athletic footwear can depend on the way you play basketball. If you frequently jump for layups or slam dunks, look for men's shoes with plenty of cushioning and ankle support to absorb impact. If you like to play fast and make quick turns, a lightweight basketball shoe will help you. If you like to think of yourself as an all-around player, a lightweight shoe with a thinner, molded insole will keep you balanced on your feet.

Support: Most men choose high-top basketball shoes for the most ankle support on the court. Some players, however, prefer men's athletic shoes with lower tops for more ankle mobility. Understanding the way you play will help you determine what level of ankle support you'll need in your shoes. You'll want to make sure you get plenty of support for the soles of your feet from your sport shoes as well. Molded insoles, arch support and cushioned footbeds in your basketball footwear can all help provide support to your feet.

Stability: You'll want to be able to turn, run, stop and jump easily in your men's basketball shoes, and shoes with the right stability features can provide the best performance. Some basketball shoes provide motion control to keep your feet and ankles in proper alignment while you play. Basketball footwear focuses on the balance of weight in a shoe to keep you balanced while you're shooting hoops. A supportive, cushioned midsole will also help stabilize your feet and ankles on the court.

Outsole: Look for men's basketball shoes with a wide, flat outsole to provide balance while playing. You'll also want to have plenty of traction on the court, so look for sport shoes with a herringbone or wave shape on the sole. These patterns grip the floor while still providing movement. Most basketball shoes are designed for indoor courts, but if you're frequently shooting hoops outside, look for footwear with thicker, more durable outsoles that won't wear out too quickly.

Buy Men's Athletic Shoes
Back to Guides Directory