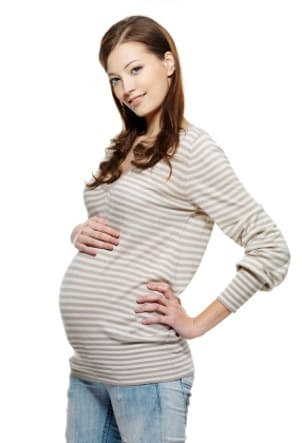 When you're expecting, you'll need a decent wardrobe of maternity clothing to accommodate your changing body. When you're pregnant, you want clothing that is comfortable and functional, but that doesn't mean your maternity clothing needs to be shapeless. The following tips will guide you through what to look for in maternity clothing so you can spend the next nine months looking your best.
Maternity Clothing Checklist:

Bra: One of the most important pieces of maternity clothes you'll want to invest in is a maternity bra. As your body prepares itself for breastfeeding, you'll need a more supportive bra than you typically wear. A maternity bra is more structured and has more coverage for support. Look for maternity bras with wide straps to keep you comfortable throughout the day.

Tops: When you're shopping for maternity tops, you'll want a top with extra fabric around the midsection, but you'll still want your top to be flattering. Tunic-style maternity shirts are always flattering, and a top with a tie at the back will flatter your curves and create shape. Maternity t-shirts are also very popular, since they hug your growing belly but are still soft and comfortable.

Undershirts: Many pregnant women like to wear maternity undershirts underneath maternity tops for extra coverage under the belly. A maternity undershirt is typically cut longer than other maternity shirts and can be tucked into pants or used to create a cute layered look. Look for undershirts with plenty of length and sturdy shoulder straps to wear underneath maternity shirts.

Pants: Whether you're shopping for maternity jeans or a nice pair of dress pants for the office, you'll need maternity pants that fit your body correctly to feel comfortable and look good throughout the day. Shop for maternity pants with a bit of stretch built into the fabric. This will give them a better fit and more movement. Most maternity pants also have an elastic waistband that is comfortable and accommodates a growing belly.

Dresses and skirts: It can be tricky to find a flattering dress or skirt when you're pregnant. Maternity dresses with a simple straight skirt are typically the most flattering. Look for wrap dresses to get a better fit through the body. Maternity dresses with a bit of stretch to the fabric are extra comfortable. Look for maternity skirts with a wide elastic waistband and straight cut as well.

Buy Maternity Clothing
Back to Guides Directory