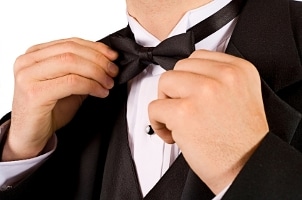 You've finally proposed to the woman of your dreams, and now the wedding planning has begun. Preparing for your wedding can be stressful, but if you keep these survival tips in mind, the whole process can go much more smoothly.
The Groom's Survival Tips:

Agree on a budget with your fiancee before planning anything: Almost every decision you two will make regarding the wedding will affect the budget, so it's best to settle on a number early on in the planning stages to avoid confusion later on. Remember that things like the venue, the date, and the number of guests will impact the budget more heavily than the type of announcements you choose. Be willing to discuss any concerns you may have and make open communication a priority. If you are looking for more specific budgeting tips, read our wedding budget guide.

Plan the honeymoon around your bride's interests: It's customary for the groom to plan and arrange the honeymoon. Put some thought into your getaway; this will be your time together after the craziness of the wedding day is over. Ask if there is a specific place she would like to go or things she would like to do, and go from there. Make sure you know any of her dislikes, too; you don't want to book a getaway to Alaska to then find out that she doesn't like the cold. If you want the destination to be a surprise, maybe going on a vacation you've had before would be a good idea. It could become "your place." If you want something new and exciting, think about what she likes. If she likes to relax, a beach destination may be ideal. If she enjoys the nightlife, a week in a big city soaking in the culture may be your best bet. If you're still drawing a blank, discreetly ask her family and friends, but make sure they are willing to keep your secret.

Choose your groomsmen wisely: Your groomsmen should be prepped on the process, the schedule of events, and the protocol of the wedding. It goes without saying, but you want to make sure that your groomsmen are aware of the proper bearing and tact required for the event. The last thing you want on your wedding day is a drunken revelation or embarrassing toast from anyone, especially someone in the wedding party.

Split the bill: For a traditional look at how to split the bill for a wedding, this guide on who pays for what in a wedding has the information you need. If you're looking to pay in a more nontraditional fashion, it is acceptable to split the bill however you see fit. Decide early on who pays for what; like setting the budget, it's best to plan the numbers first to avoid problems later on.
What Do You Want to Do Next?

Shop for Wedding Supplies
Plan Your Dream Wedding
See All Guides
Read More Wedding Guides
Read More Bride and Groom Guides