Wedding Registry Do's and Don'ts
by Emily Harrison
Published February 28, 2013 | Updated June 30, 2015
Wedding gift registries make it easy for both you and your guests to ensure the gifts you receive are things you need and, of course, the things you want. Sometimes planning an entire registry can be daunting, but it should be fun, too! Creating a gift registry gives you a chance to get together with your fiancé and start planning your future after the wedding. Follow these guidelines, and registry planning will be both easy and enjoyable.
Registry Do's and Don'ts: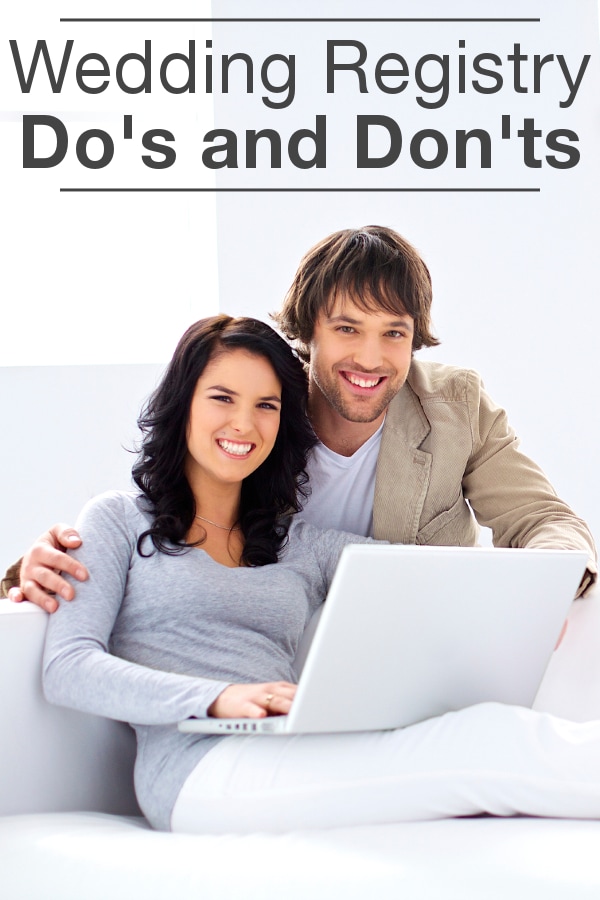 Create Your Registry ▸
Do Set Up Your Registry Early

Setting up your registry should be one of the first things you do after the engagement. Ideally, you want to make it available for six to nine months in order to ensure that your guests have a registry to refer to for engagement parties and wedding showers. And don't worry about feeling pressured to finalize your registry straight away; most stores give you the ability to check and edit your registry as often as you'd like.

Don't Only Register at One Store

You'll want to register at two or three stores to give your guests a variety of gift choices. Registering at online stores is an easy way to make sure that everyone has access to your registry, but make sure that at least one store on your list has a brick-and-mortar option for any guests who may prefer shopping in person. Always read the fine print before settling on a specific store. Does the store offer registry incentives? What are their return policies? You don't want to be stuck with two of the same item.

Do Register for Nontraditional Items

Your registry should reflect who you are as a couple; it isn't all just about the china. If the two of you love the outdoors, go ahead and register for that canoe or tent you've had your eye on. Remember that your guests will want to give you gifts that reflect your relationship with them. Grandma will probably get you that blender or that set of luxury bath towels, but your cousin may prefer to give you a set of pint glasses. However, be careful to stay away from personal items, like clothing or beauty products. If it is an item you would buy for yourself regularly, it shouldn't be on your registry.

Don't Forget the Classic Registry Items

Remember that these gifts are traditionally meant to start you on your new life together. The nontraditional items are fun to register for, but don't forget about the basics you will need in your new home. Things like dinnerware, bed linens, and towels are essentials that you will always appreciate. But suppose you already have all of the household items you need. Don't be afraid to upgrade your coffee maker or perhaps register for a set of sterling silverware. A few of your guests will probably love giving you these classic wedding presents.

Do Register for a Variety of Gifts at Various Prices

You shouldn't register for all expensive or inexpensive items. Your guests have a variety of incomes, and your registry should reflect that. Aim to have one-third of your items priced at $50 and below, one-third priced at $50 to $100, and one-third at $100 and above. Don't be afraid to register for one big item; perhaps your Aunt Susan would love the chance to spoil the two of you with that new couch, or maybe a few people want to go in a larger gift. You'll also want to register for more gifts than guests you have invited to ensure that everyone has a broad choice of gifts to give. This will lead to you most likely not getting everything on your list, but don't fret. Some stores have a completion program, which offers a discount on any items remaining on your registry.

Don't Ask for Money

It may be tempting, but it is generally looked down on to ask for money outright. If cash is what you need, there are websites that allow you to set up financial registries for things like a honeymoon or down payment on a home. Some stores also allow you to register for gift cards, which is another great option.

Do Write Thank-You Cards Promptly

The rule of thumb here is that your thank-you cards should be in the mail within six weeks of receiving the gift. If you can, try to write the note as soon as you receive the gift. It's a good idea to personalize each thank-you card: Name the item you are thanking the giver for and explain how or why you will enjoy using it.