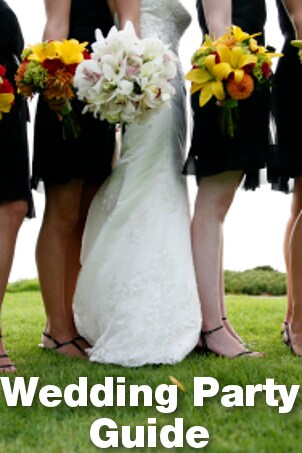 PLAN YOUR DREAM WEDDING NOW >>
You've been engaged for only a moment, but you've already picked cakes, china, and dresses out of your favorite bridal magazines. Before delving any further into the wedding planning process, stop to choose your wedding party. Maybe you've known for years that your sister will be your maid of honor, or maybe you haven't given the process any thought at all. Either way, these tips will guide you through the process of choosing, organizing, and dressing your wedding party.
Wedding Party Tips:

Who to select: To assemble your wedding party dream team, you have to start with the coaches. The maid of honor and the best man should be your relatives or closest friends. They need to be able to take charge and make decisions about parties while delegating duties. The most organized friends make some of the greatest maids of honor and best men. Try to choose wedding attendants who are supportive of your choices and are most likely to remain in your life long after the wedding is over.

How many people to include: Most wedding parties consist of about four bridesmaids and four groomsmen. You can certainly have just one or two or go all out with 10 of each. Remember, although the bridesmaids and groomsmen are expected to pay for their own attire, you will have to pay for flowers and gifts for each of them.

The bride's attendants' duties: The maid of honor, with the help of the bridesmaids, is expected to plan the bridal shower and the bachelorette party. The bridal party should also make themselves available to run errands, offer helpful and honest advice when asked, and attend tastings, meetings, and location tours.

The groom's attendants' duties: The best man, with assistance from the groomsmen, plans the bachelor party. He may also be needed to run errands and attend tastings while lending moral support to the groom. The groomsmen should plan on dancing with the bridesmaids and other guests at the wedding reception.

Everyone's attire: Everyone in the wedding party is expected to pay for their own bridesmaid dress or rent their own tuxedo. Whether to dress your bridal party in matching gowns or not is your choice. Many modern brides prefer to choose a color or color family and allow the bridesmaids to choose their own style of dress. The groomsmen and the best man typically go with the groom to choose matching or coordinated attire.

Gifts for your wedding party: Don't forget to give gifts to your bridal party to thank them for all their hard work. Watches, cigars, flasks, and cuff links are elegant choices for groomsmen and best men. For bridesmaids and maids of honor, consider jewelry, handbags, picture frames, and pajamas. You can also think outside the box and give gift certificates, personalized items, or gourmet food as thank-you gifts.

Shop for Wedding Planning Products
Plan Your Dream Wedding
See All Guides
Read More Wedding Guides
Learn More about Wedding Parties
Published March 5, 2013
Updated December 9, 2014