Wedding Decorations Buying Guide
by Staff Writer
The wedding decorations you choose will set the scene for your big day and will express your individuality to your guests. You have many choices, but don't let the selection overwhelm you. Start by considering the season when your wedding will be held; this will help you narrow down your ideas. Then, you can find what appeals to you and add in your personality. When you know what you are looking for before you start shopping, you'll be able to stay on budget while creating the event you want.
Spring Weddings: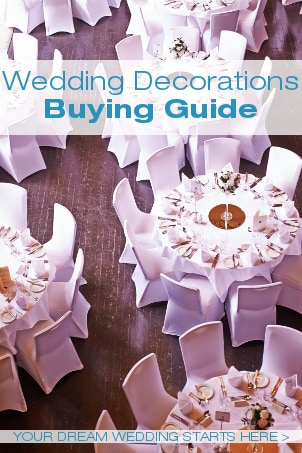 Shop Wedding Essentials ▸
Play up spring colors with nature.

Choose a main color theme to have throughout your reception. To add your touch to any rented items, purchase tablecloths in bright spring colors and accent them with nature: twig and flower centerpieces, planted tulips in pots or bowls, or vases filled with fruit tree blossoms or growing grass.

Lighten up.

Embellish areas with light flowing fabrics and ribbons. Breezy fabrics, like organza and tulle, make elegant bows and swags and are ideal for church aisles, stair rails, and chair backs.

Brighten up.

Paper lanterns and twinkle lights have a soft look to transition from evening to night. Paper lanterns come in many colors and designs and are very inexpensive. Twinkle lights can be strung in trees or with delicate organza swags to create a dramatic and elegant look, indoors and out.

Embrace nature.

Have your reception outdoors. You'll save on decorations and flowers since you'll be surrounded with natural beauty. Add an arch with spring flowers and ribbons in your colors for a simple and elegant look. For a rustic look, set your arch right up against trees or tie ribbons from branches and form your own arch.

Decorate with food.

Tie in your wedding colors with your food. Buffet tables will need less decoration when you choose yellow and serve pineapple kabobs, yellow tomato salad, and lemonade. Edible flowers also make a special treat when adorning your wedding cake or desserts.

It's the time of year for garden parties.

Rented tents are often less expensive than reception halls and dressing up your tents with flowers is even more affordable when you set it up in a flower garden. Add garden lanterns hung on shepherds' hooks and you'll have an inviting party sure to win guests over.
Summer Weddings
Summer is all about the sun and warmth.

Bright yellows, greens, reds, blues, or pinks can make your summer wedding reception decorations pop.

Bring on the sun and surf.

Summer is the season for beaches. Bring your summer adventures to life with a beach wedding theme. Bowls with sand or seashells will bring those rented tables new life. Find bright tablecloths in coral, orange, or pink to match the goldfish swimming in bowls as your centerpieces.

Provide relief from the heat.

Outdoor weddings are gorgeous in the summer, but keep your guests cool with refreshing water features, like indoor fountainson each table. Water features add elegance as well as relief from heat.

Create a cook-out feeling.

Take advantage of barbeque season. Even if you don't serve sauce-smothered ribs at your reception, a few strategically placed fire pits add warmth as the temperature drops, and they'll add light as the sun sets.

Make a cool retreat.

If you chose to hold your ceremony outside or have your reception in the middle of the day, make sure you provide shelter for your guests. Give them shade with tents or umbrellas.

Keep a fresh look.

People aren't the only ones that will wilt in the heat. To decorate your hot summer wedding, use silk flowers; they won't melt and will look fantastic.

Decorate with fruit.

Fill clear glass urns with lemons, oranges, or bright green limes. Colors will pop, and the arrangements are affordable. You can also use tiered cake plates or trifle dishes to display flowers and fruits.
Autumn Weddings
Darker days bring romance.

Wrought iron and colored glass will cast a romantic glow at your reception. Subdued lighting lends itself to the theme. Add an eastern flair with rich colors on the walls and floors with Persian rugs. Area rugs can also cover any less than perfect floors in in rental hall.

Pick a deep color to match the season.

Select one color and saturate your wedding decorations with it. Deep gold, red, or bronze tablecloths, napkins, plates, glasses, and flowers covering every table will be absolutely stunning.

Celebrate the harvest.

Flowers and fruits make excellent decorations. Try a modern approach to a cornucopia and update it with an overflow of more than produce: Use rich roses and crystal beads and catch the light with a bounty of glittering color.

Separate the festivities into different zones.

Add privacy screens and create individual spaces for each part of your reception. Curtains in dark colors or bright designs can greet guests and designate your cocktail lounge from your dance floor. You will help the flow of your reception and provide cozy places for guests to mingle and wish you well.
Winter Weddings
Use symbols of everlasting love.

The evergreen tree isn't only a symbol of Christmas. This tree stays forever green, no matter the season or weather. Use boughs of evergreen to represent your love for each other -- and as a backdrop for flowers, like white roses and jasmine.

Use traditional colors for the holidays.

Silver and gold add glitz to the day. Gold accent plates or silver candle holders will make sparkling reflections at your reception.

Create a winter wonderland.

Snow is falling outside, but you can bring some inside with snowflake ornaments in glass, crystal, and ceramic. You can even make your own snowflakes with a few scrapbooking tools and paper. String snowflakes from the ceiling, if possible, or add guests' names and use as place cards.

Bring on the winter whites.

White can be beautiful, especially when you combine different shades. Use your varying shades of white as accent colors to each other and throw in different textures. Your white wedding will be an opulent affair to remember.