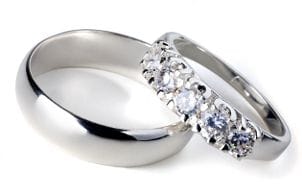 Wedding bands and engagement rings have a rich history. Though the rings themselves have changed and cultural meanings have evolved, a ring on the fourth finger of the left hand has long been a way to show the world that you are in love. Wedding rings today can be found in traditional gold, platinum and diamond styles as well as unique gemstone, titanium and stainless steel varieties. Learning a bit about wedding band and engagement ring history can help you decide what type of wedding jewelry is right for you.
The History of Wedding Bands:

The first wedding bands. The earliest record of rings being used to symbolize love comes from Ancient Egypt. Egyptians fashioned wedding bands out of flowers and plants and felt strongly about how the never-ending circle symbolized eternal love. The Egyptians were also responsible for selecting the traditional wedding band ring finger. They believed that a vein in the fourth finger of the left hand led straight to the heart. Romans were slightly less romantic about wedding bands, and may have been the first to use them to claim ownership of the women they desired. Ancient Greeks, on the other hand, gave engagement rings to friends and loved ones to show that they cared.

Wedding bands in Europe and America. The first rings used by Europeans to show affection were promise rings. Similar to wedding bands and engagement rings, Europeans started promising love with these baubles in the 17th and 18th Centuries. American tokens of love had a slightly more secretive beginning. In Colonial America, jewelry was often seen as immoral and arrogant. Items such as thimbles were sometimes given as engagement tokens and then fashioned into rings after the couple was married.

Modern wedding bands. Over the last Century, Americans have become quite attached to wedding band and engagement ring traditions. Customary modern wedding bands and engagement rings are made of gold, white gold or platinum and proudly sport sparkling diamonds. In recent decades, however, wedding bands have become more personal and unique. Many couples opt for wedding bands made of titanium, tungsten or sterling silver and select adornments such as rubies, pearls and colored diamonds.

Buy Wedding Rings
Back to Guides Directory