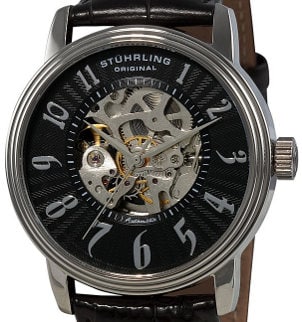 When you decide to buy a watch, you may feel bombarded by new words used to describe so many different watches and watch features. Watch movements are new to many people, and choosing a watch requires you to know a bit about the watch movement that you want. Both men's watches and ladies watches are available with mechanical or quartz movements. Mechanical movements can also be automatic, and quartz movements can be battery powered, solar or kinetic. Consider these common terms about watch movements to decide which men's watch or ladies' watch is right for you.
Watch Movement Terms:

Movement: The finished assembly of the inner workings of a watch is called the movement.

Mechanical movement: Mechanical is the traditional movement, which has to be wound by hand regularly. A mechanical movement uses a mainspring, which is tightened when you wind the watch; it releases slowly to power the timepiece.

Automatic watch: A watch with a mechanical movement and a rotor is called an automatic. The rotor oscillates with the movement of the wearer's wrist, winding the mainspring automatically.

Quartz movement: A quartz movement uses a vibrating quartz crystal to keep time. The crystal is often shaped like a tiny tuning fork for accuracy. Watches with quartz movements are more accurate than watches with mechanical movements.

Solar watch: A solar watch uses a quartz movement, but it collects energy by using solar panels to recharge the battery under any light source.

Kinetic watch: A kinetic watch also uses a quartz movement, but it uses oscillating weights to recharge the battery from the motions of the wearer's wrist.

Caliber: The caliber is the configuration and size of the watch movement. The term also refers to a model of movement from a specific manufacturer.

Horology: The history and craft of making watches, clocks and other devices for measuring time.

Reserve de Marche: "Reserve de Marche" is a French term for the power-reserve function, the amount of energy, notated in hours, that a watch has stored in its movement. The average mechanical or automatic watch has a full power-reserve of about 36 hours.

Skeleton: This is a watch design that displays the movement in the watch case. Often, the dial will have hands but no solid face, allowing the gears to be seen through the top crystal.

Buy Watches
Back to Guides Directory