Watch Buying Guide
by Shawna Edwards
Published April 28, 2010 | Updated June 30, 2015
Ever since the Egyptians used sundials to mark the solar calendar, humankind has asked, "Do you have the time?" Fine wristwatches display the engineering skill and craftsmanship of the watchmaker, and each watch style contains a unique combination of materials and technology. Knowing some information on the basics before purchasing a watch will help you buy watches with confidence.
Watch Materials: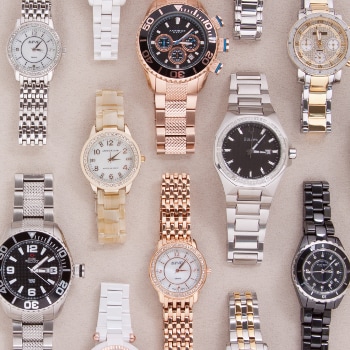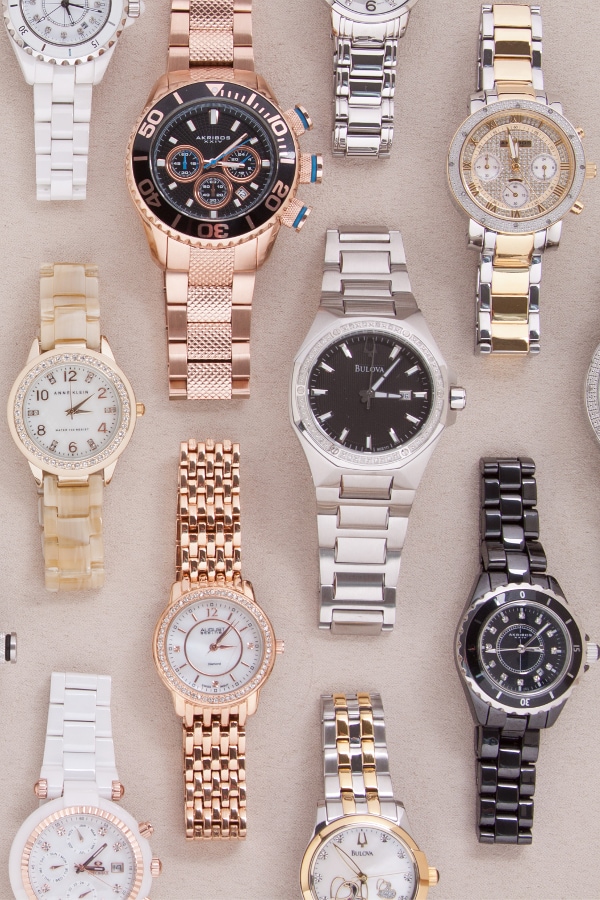 Shop Watches ▸
Case Materials

Consider the style and durability of the case material. To protect the movement and dial, most cases are made of metal. Stainless steel is the most popular metal used in high-quality watches. Stainless is attractive and resists both tarnish and discoloration. Titanium is gaining in popularity because it is as durable as stainless steel but is quite a bit lighter. Gold sets the standard for truly luxurious men's and women's timepieces. Watchmakers craft these models in 14k, 18k, or 22k gold of yellow, rose, and white hues.

Band Materials

Watch bands are available in many materials and feature two distinct styles: the bracelet and the strap. A bracelet is a series of interlocking metal links. A strap is leather, fabric, nylon, rubber, or synthetic. Leather adds beauty to casual designs you wear every day and to dressier versions. Sport watches are designed for outdoor activities and generally feature a durable rubber strap, nylon strap, or stainless steel bracelet. Some wristwatches also feature fine faux leather or fabric straps. You can expand your style options by purchasing extra bands for each case you own.

Watch Movement:

Quartz Movements Watches

A quartz movement is powered by a battery. In this design, a vibrating quartz crystal drives a step motor to move the hands at a constant rate. Passing an electric current through the crystal keeps it oscillating at over 32,000 vibrations per second, which makes the movement extremely reliable. Quartz movements are also cost-effective designs for the manufacturer, and the most affordable watches usually have this feature. Swiss quartz combines the movement with the chassis and jewels of a mechanical movement to form the most accurate and most durable quartz movement. On average, the battery needs to be changed every 1.5 years; however, a few quartz watches have solar-powered rechargeable batteries.

Mechanical Movement Watches

A mechanical movement uses a spring that must be wound by hand using the crown, located on the case. The spring slowly unwinds to release the energy that powers the timekeeping functions. Consumers who appreciate the skill of gifted watchmakers choose these fine watches for their intricate composite of gears and other parts. Well-built mechanical watches can last for generations.

Automatic Movement Watches

Automatic watches have mechanical movements that harness the energy produced by the wearer's arm to wind the spring. You don't need to manually wind the watch often -- as long as you wear it and move around while wearing it. Store your automatic watch in a watch winder if you don't plan to wear it often. If it stops, it's not broken; it just needs to move around more. Also, adjust the time once a month as automatic and mechanical movements can gain or lose a few minutes per month.

Watch Sizes:

Case Sizing

Case size is an important factor in the watch style. On average, men's watches have a case width or diameter of 35 millimeters, which is just under 1.5 inches. Women's watches have a case width or diameter of 34 millimeters or smaller. The thickness measurement refers to the width between the case back and the top of the crystal. To see how a watch will fit when you receive it, print out this watch sizing pdf.

Band Length

The watch band is measured from the buckle to the last hole in the watch strap or from clasp section to clasp section. In general, a watch band will measure 7.5 inches to 8.5 inches for a men's watch and 6.5 inches to 7.5 inches in length for a women's watch. Be sure to check the sizing disclaimer in the product description for a listing of the band length.

Wearing and Storing Your Watches:

Just as jewelry and apparel complement different occasions, so do watches.

Start with a classic steel bracelet for the office or everyday wear; enhance your collection with leather and fabric straps. Materials distinguish the luxury dress watch; for simple elegance, choose a sleek bracelet with a white or black dial. If you like a little more sparkle, look for mother-of-pearl dials and diamond-studded bezels.

Protect your timepieces by storing them in watch boxes.

Similar to fine jewelry chests, watch boxes are crafted of beautiful woods and leathers for an impressive presentation. The padded interiors usually include several holding slots, which prevent the watch components from scratches. Many of the best boxes feature automatic watch-winders. The constant, gentle rotation keeps your automatic movement ticking even after days without wear.

Types of Watch Warranties:

Manufacturer Warranty

A manufacturer's warranty is offered directly from the manufacturer of the watch and in many cases is not honored if the watch is not sold by an authorized dealer.

Distributer Warranty

Although all watches sold by Overstock.com originate from authorized dealers, in many cases Overstock.com does not source its watches directly from the manufacturer and is not an authorized dealer. In that case, we offer a one year distributer warranty that covers the movement of the watch from manufacturer defects.