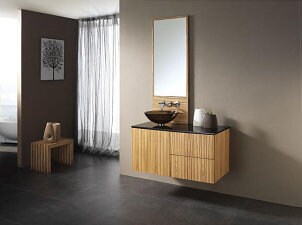 The addition of a vessel bathroom sink can really add style to your bath remodel, but before you decide to go with a vessel sink, you may want to know how they compare with the traditional sinks you're familiar with. Here's a side-by-side comparison of the two types of bathroom sinks.
Vessel Sink Comparisons:

Durability and materials: The durability of any sink, vessel or otherwise, relies on the material of the sink itself, which comes in multiple varieties. Copper vessel sinks do require a bit of care for maintenance, but a porcelain or glass vessel sink is scratch and abrasion resistant, standing up well to even harsh cleansers. A stone vessel sink will retain heat well and is similarly scratch resistant. You may find both traditional and vessel bathroom sinks in all of these materials, including stainless steel. If there is a marginal winner in materials between vessel sink and traditional bathroom sink, it may be vessel since more exotic materials, like glass and stone, are more common for vessel sink designs.

Installation: Vessel sinks feature relatively simpler installation than other sink types, and you may even be able to reuse an old countertop with a new vessel sink.

Many traditional sinks drop into the bath vanity counter, and traditional under-mount sinks will require a custom-cut countertop. Alternately, a vessel sink will sit on top of the counter or slightly recessed into it. If recessed, the countertop will need a hole to accommodate your vessel sink's shape.

The height of the bath vanity tends to be a bit lower with vessel sinks because they rest several inches higher than traditional bathroom sinks.

Drain installation for both types of bathroom sinks are very similar; but a vessel faucet must be high enough to reach above the lip of the vessel sink, which is higher.

Maintenance: Vessel and traditional sinks don't necessarily require different levels of maintenance. The sink material will mainly determine if extra maintenance or care is required, such as with copper sinks. You may want to remember to clean around and under the vessel, since splashed water can pool around it on the countertop, but special maintenance probably won't be needed.

Faucets: Vessel faucets tend to be taller, waterfall faucets. They usually only require one hole in the countertop, as opposed to traditional sinks, which usually have at least three for the spout and two handles. A new vessel sink will often come with a faucet specifically designed for it.

Buy Vessel Bathroom Sinks
Back to Guides Directory