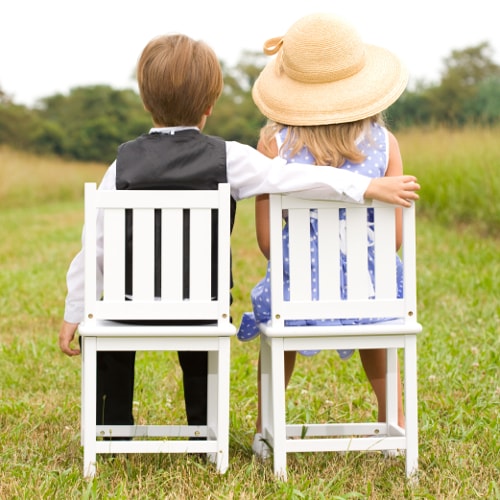 Valentine's Gifts for Your Little Ones
One of the best parts of Valentine's Day can be finding the perfect gift, but who says that the holiday is only about romantic relationships? It's the perfect time to tell everyone you love how much they mean to you, including your favorite little ones. Kids love Valentine's Day, and here are a few ways to make the day special for them.
Something Red to Wear
With some new children's clothing, your little one will be an adorable Valentine. Your little girl will steal everyone's heart in a Valentine's dress. To fit the day's theme, go for a pink or red frock. Your little guy will look quite the dashing gentleman in a boy's suit. You can add some Valentine's Day style to his outfit with a red tie.
Something Cozy to Wear
Since February is in the middle of winter, some boots or a new jacket for him or her would be both fun and functional. If they already have a good coat, look for mittens or earmuffs to complement their outerwear. For something cozy they can wear at home, try a pajama set and a pair of slippers or cool pair of sweat pants and a hoodie, something warm that will help you keep your little ones warm all the time.
Something to Read
Books are perhaps a bit untraditional for Valentine's Day, but a book is something that your kids can enjoy year-round and for years to come. Not only that, but the younger children can enjoy their gift with you as you read it together. There are plenty of Valentine's Day-theme books, and a classic children's book is always a great go-to. For the older kids, try a young-adult fiction book set.
Something to Play With
Of course, we can't forget the best part of any holiday: toys. As adults, we look forward to the newest gadgets or maybe even some sparkling jewelry; kids can look forward to Valentine's toys with the same excitement. Does your little one like to play house? A toy kitchen will enliven the toy room. If they spend most of their play time outside, give them a ride-on or a remote-control toy and watch them keep active for hours. A board game is also always a great idea. You can play it together and get in some fun quality time.
Something to Make
Many kids love making things with their hands, and a kids' craft kit helps them get results they will be proud of. Look for a craft kit that plays to their interests. Is she into science? A rock polishing kit would be a fun way to learn more about geology while making something cool. Is she more into fashion? Look for jewelry making kits or beginner's knitting kits, so she can make accessories for herself and her friends.
what shoppers are saying about Valentine's Gifts for Kids at overstock™
Related product reviews

Happy

VERIFIED PURCHASE

Brought this for my hubby for valentines day he loves it ..

Nice Gift

VERIFIED PURCHASE

Got this for the wife for Valentine's Day and she really enjoyed it.

Happy Hubby

VERIFIED PURCHASE

My husband was happy to receive this on Valentine's Day however he has not used it.

Excellent

VERIFIED PURCHASE

My fiancé loves it this was his late valentines gift

Invicta Watch

VERIFIED PURCHASE

My husband loves this watch. He was excited to get it for Valentines Day. He always wanted one.

Danty ,Lovely, Very ladylike jewelry!

VERIFIED PURCHASE

Great as a Valentine Gift so that Special someone!

Beauty and comfort

VERIFIED PURCHASE

My wife wanted this for valentine's day, she got it, and she loves it.

Watch for the boyfriend

VERIFIED PURCHASE

I surprised my bf with this for Valentine's Day. It was perfect!!

Bracelet

VERIFIED PURCHASE

Gave to husband for Valentine's Day he still has it on.

Shop Other Events