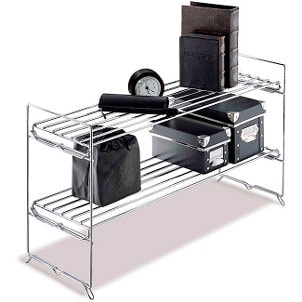 Office space is almost always limited, and desk space is especially precious. Moving items off your desk makes your workspace into more of a blank slate, where you can think with fewer distractions. You can open up space on your desk by using the appropriate shelf storage organizers and storage racks for your office space. With a few well-placed shelves, you can use space you didn't even know you had. Here are some tips to help you make the most of your work space.
Organizing with Storage Racks:

Hang wall pockets. Cubicle walls are often wasted office storage space. Use hanging clips to attach some wall pockets. Use the pockets as storage racks for office supplies, documents and other odds and ends.

Set a document rack on your desk. In and out boxes on your desk can take up a good portion of your desk space. A document storage rack that holds documents vertically can cut the footprint of those documents in half.

Set up wall shelves. If your desk sits against a wall, install some shelves to store photos and other knickknacks. Fill a couple of wall-mounted storage racks with items from your desk and you've opened up still more of your work space.

Use large shelving for office supplies. Move office electronics and supplies, like printers and paper supplies, onto a sturdy wire storage rack or shelving, away from your desk. Make sure the storage rack is sturdy enough to support several hundred pounds, especially if you're storing heavy paper and electronics.

Keep the floor space clear. You may want to avoid placing lots of storage racks away from the walls of your office. Aside from your chair and desk, the floor should be an open space. Set storage racks in corners or against walls so that you won't be walking through a maze to get to your desk. The open space will make your office feel less cluttered, as well.

Buy Shelf Storage Organizers
Back to Guides Directory