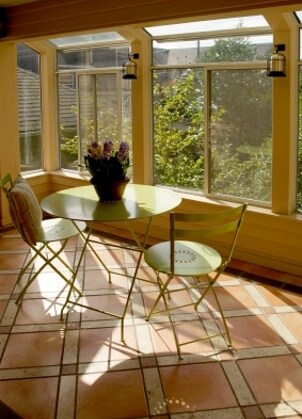 The beauty and style of floor tile can be a great alternative to a dull concrete slab. Tiling your patio or another outdoor surface can add a splash of color to your home as well. Here are a couple of tips to help you get started on the right foot.
Outdoor Tile Tips:

Pick a low-absorption tile. Since your floor tile will be exposed to the elements, it needs to stand up to moisture and extreme temperature. Use a floor tile with an absorption rate of less than 3 percent, as well as a high frost-resistance rating. Otherwise, your beautiful flooring tile can freeze and crack.

Prepare the surface before you tile. A concrete slab can chip and crack over time. Before you tile, even out the surface with concrete filler. Also, check the surface for uneven spaces to make sure it is mostly flat.

Find a slip-resistant floor tile. Tile is easy to clean and durable because it doesn't absorb liquids or dirt, but that also means it doesn't provide as much traction for walking. When it becomes wet from rain or snow, tile can get a little slippery. For outdoor use, choose a floor tile that is rated as more slip-resistant and has a bit more grit to its surface.

Avoid fading materials. Most glazes for ceramic tile will not fade. However, if you are using terra cotta or wood tile, the colors can fade over time. As long as the floor tile fades evenly, the tile will stay beautiful, but if part of the floor tile is shaded or receives less sun during the day, you may start to see uneven coloring. In that case, a ceramic floor tile is probably best.

Choose tiles that resist scratches. Outdoors, floor tile will be exposed to more dust and wind, which can produce premature wear on certain tile glazes. Make sure that the glaze for your floor tile is high and try to keep your tile clear of sand and dirt.

Use a grout sealer. Your floor tile will resist stains, but the grout between the tiles is more porous. Use a grout sealer to keep the color of the grout even and unblemished.

Buy Floor Tiles
Back to Guides Directory