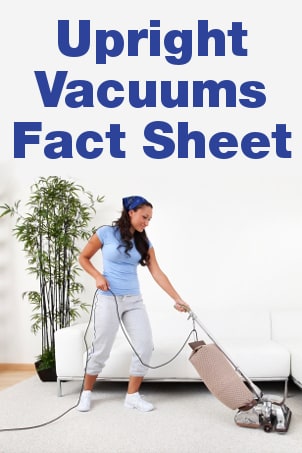 Unlike canister vacuums, upright vacuums include the canister on the frame of the vacuum itself to save on space and increase maneuverability. It is no wonder why upright vacuums are by far the most popular vacuum cleaner on the market. These facts about upright vacuums should help you shop for the best one for your home.
Facts about Upright Vacuums:

Easy to maneuver: Upright vacuums are easily maneuvered over large expanses of carpeted floor. Upright vacuum manufacturers are constantly adding features to give them more maneuverability around a room, a plus if you have a lot of furniture in your rooms. On the other hand, if you are trying to clean your car or flights of stairs, canister vacuums might be better.

Bags or bagless: In the past, all upright vacuum cleaners came with removable and replaceable bags that stored all the dirt being collected. Since then, the bagless vacuum has become more popular. In these upright vacuums, the canister itself is removable, so you can dump out the contents. Although you do have to occasionally clean the canister's interior, you can save on buying and throwing away vacuum bags.

Every price range: An expensive vacuum doesn't necessarily make the best vacuum. Upright vacuums come in many different price ranges, and some of the cheaper models perform just as well as the high-priced vacuums. When you are selecting an upright vacuum, remember that price isn't the ultimate indicator of value. Make sure to check upright vacuums for overall features and don't judge them solely on how much they cost.

How they work: The operation behind vacuum cleaners is actually pretty simple. The fan inside the vacuum blows air through the exhaust port, leaving fewer air particles behind the fan than are in front of it. This causes the air particles behind to rush into the open space and subsequently be pushed through the fan to repeat the process.

About attachments: While some upright vacuums are just a stick with a container for catching dirt, others have a plethora of attachments. Be sure to think about your cleaning needs as you evaluate which attachments you need. For example, do you have stairs that you'll want a carpet attachment for? Do you need to be able to vacuum pet hair off furniture? Make sure the vacuum buy will make it easier to clean all the things that get dirty in your home.
What Do You Want to Do Next?

Shop Upright Vacuums
Shop Bagless Vacuums
Shop All Vacuums & Floor Care
See All Guides
Read More Home Guides
Learn More about Housewares