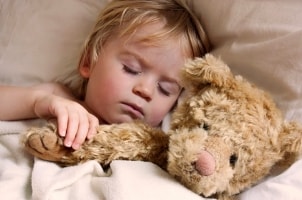 Many parents invest in convertible cribs to save money in the long run. A convertible crib serves its purpose as a crib, and then, once your child has outgrown the crib, you can remove one or both sides of the convertible crib to make a comfortable toddler bed for your growing child. The transition to toddler beds from cribs can be a hard one to make for many children, but there are several things you can do to make the transition easier for both of you.
Updating a Convertible Crib:

When to convert: There is no set age determining when you should convert your convertible crib to a toddler bed. While most children are ready for a toddler bed anywhere from 18 months to 3 years of age, you'll want to make sure you don't make the move too early or too late. If your child won't sleep through the night in her new toddler bed, you may want to go back to a crib until she's ready. On the other hand, if your child is becoming very active, it's a good idea to change your convertible crib to a toddler bed to keep your little one from climbing out of the convertible crib and risking a fall.

Get the low down: You'll want to adjust your convertible crib so that the mattress is in the lowest position possible before making the switch. This will make the sides of the crib higher and harder for your child to climb out of while still in a crib and will place the mattress closer to the ground once you have converted the convertible crib to a toddler crib. Having the mattress lower makes it easier for your little guy to get in and out of bed, as well as making it safer by placing the bed closer to the ground.

Big-kid bedding: When you transform your convertible crib from a crib to a toddler bed, you'll want to update it with bedding that's just right for your toddler. Whether that be outfitting the convertible crib with a whole new bedding set or working a few new pieces into the crib bedding, your little one is sure to be more excited about his big-kid bed if it's done up with new bedding. Simply leaving the crib bedding on as it is could remind your child too much of his crib and make it harder for him to move on. Some children, on the other hand, will find a familiar blanket soothing in their new bed. The key is to change it up just enough to make it an exciting new step for your child.

Safety first: When your child is getting too active for her convertible crib, it's time to switch it to a toddler bed before she tries to climb or jump out. A toddler bed needs some safety precautions, too. You may want to add a safety rail to keep your little one from rolling out of her new bed. Tucking blankets and sheets under the mattress can help her stay in place during the night as well.

Buy Cribs
Back to Guides Directory