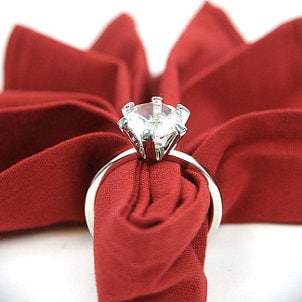 Receiving jewelry is always a pleasant experience for jewelry aficionados, but it can become monotonous to give the same thing over and over. Next time you're picking out a gift for someone who loves baubles, think outside of the box and give them something to complement their accessory collection or remind them of favorite pieces.
Gift Ideas for Jewelry Lovers:

Jewelry boxes: Whether jewelry is currently stashed in a drawer or the collection has outgrown its home, jewelry boxes are a natural gift for people who love accessories. For expensive collections, look for large wooden jewelry boxes that lock and have several drawers to hold rings, earrings and bracelets so they don't get lost. For housing a few special pieces, a small silver trinket box is the perfect fit. If the jewelry collector prefers to have the pieces on display, try giving velvet-lined display trays that can be stacked on top of a dresser or vanity.

Cleaning machines: Breathe new life into dull metal and stones with jewelry-cleaning machines. These portable machines make it easy to clean jewelry at home using ultrasonic wave energy that will remove buildup and restore shine. Safe for almost any type of jewelry, a cleaning machine can unearth the beauty of jewelry that has been collecting dust in a drawer because it's tarnished or dull.

Travel cases: Throwing jewelry in a pouch leads to tangled chains and lost gems, so travel cases are always appreciated. For light packers, a jewelry roll will sufficiently hold several pieces and fold up tightly to fit in carryon luggage. To tote a large amount of jewelry, choose travel boxes with several compartments that organize and protect. The travel cases typically come with locks, so you can feel safe traveling with expensive items.

Oversized decorative items: Add bling to everyday life with decorative items that are modeled after jewelry. Paperweights shaped like oversized rings look glamorous placed on a desk while napkin rings in the same shape dress up a table. Made from glass or cubic zirconia, these accessories give off a high shine without the high price.

Buy Jewelry Boxes
Back to Guides Directory