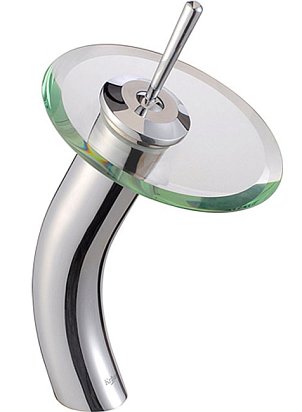 Sometimes it seems like faucets don't vary much. Ninety-five percent of the kitchen and bath faucets you see are basic sink-mounted, single-spout designs with one lever or two knobs. These vary in terms of finish and embellishment, but, essentially, these designs are all variations on a single theme. These kinds of faucets make great complements to a wide range of kitchen and bath decor. However, sometimes, you may want a faucet that's unique, that departs from the norm and becomes a centerpiece for or makes a specific statement about your kitchen or bath. Maybe you want a faucet that performs a specific function that the usual faucets do not. If you're looking for that kind of faucet, keep reading. We've compiled a list of four unique faucet designs, one of which may be just what you're looking for.
Unique Faucets:

Waterfall faucets: These bathroom faucets don't have a spout at all. Instead, water bubbles up out of the center of a platter, usually made from glass, and then cascades off of the platter, making a small waterfall. Waterfall faucets look strikingly different than traditional faucets, and lend a distinct, modern look to any bathroom. Waterfall faucets are usually paired with vessel sinks, but many models also work very well with standard sinks.

Wall-mount faucets: Wall-mount faucets are very common in bathtubs, but you rarely see them used on a bathroom sink or a kitchen sink. Nevertheless, there are many wall-mount faucets available for kitchen and bath settings, and they offer a look that guests are sure to comment on. Many people avoid wall-mount faucets because they usually require extra plumbing. However, if you're willing to go through the extra work that wall-mount faucets require, you'll have a striking bathroom faucet or kitchen faucet that makes cleaning around the sink easier.

Pot-filler faucets: Carrying large pots of water from the sink to the stove can be a pain, but it can be completely avoided by installing a pot-filler faucet in your kitchen. Pot-filler faucets have long, articulated spouts and sit next or over your stove top, so you can fill pots right at the stove. While not everyone needs or wants a pot-filler faucet, if you cook a lot, a pot-filler faucet can save you time and energy.

Commercial-style faucets: Like a pot-filler faucet, a commercial-style faucet may be an excellent addition to your kitchen if you are a dedicated chef. Commercial-style faucets have a regular faucet spout as well as a pull-down sprayer. When you need to fill the sink or want a cup of water, the regular faucet works fine. When you want to spray down a large pot or a slew of dirty dishes, you can pull the sprayer from its holder and spray down whatever you need to scrub.

Buy Faucets
Back to Guides Directory