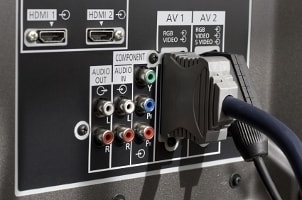 Audio and video technology continues to reveal new, more advanced devices that bring home entertainment to new levels. New televisions now feature more connection options in order to be compatible with a larger number of audio and video sources, like Blu-ray disc players and MP3 players. Here are some details on the most common connection types to help you make sense of the connection options available for your TV.
TV Connection Types:

HDMI cables: HDMI connections are the latest breakthrough in HDTV technology. You'll find HDMI ports in TVs, computers and even some cameras. These cables transfer both high-definition digital audio and video in a single cable. If you have a LCD TV or plasma TV and want to use a Blu-ray player, HDMI is probably the best connection choice.

Composite cables: Also known as RCA cables, composite video connectors carry a standard definition signal and are usually paired with red and white audio connectors for sound. You'll find these connections on most DVD players, VCRs and laser disc players. Most HDTVs still feature the red, white and yellow ports for composite cables, so your old players will still work with your TV.

Component cables: This type of connection splits an analog video signal into three separate "components" so they don't interfere with one another. The connectors, as well as the ports on your TV, are typically colored red, green and blue. The three component signals are reassembled by your TV into a high-quality picture. You can connect many DVD players, Blu-ray players and video game consoles to your TV with component cables, but you'll need separate cables for sound.

RGB cables: RGB is a kind of component video cable used primarily with computer monitors. Some HDTVs feature a similar port to accept RGB cables. If you're using your TV as a display for your computer and you don't have HDMI as an option, you can adjust your TV and computer resolution settings to make the display work.

DVI cables: DVI is primarily used by computer monitors to transfer digital video signals, but some TVs feature DVI ports, too. You can connect your computer to your TV using DVI, but a DVI connection is usually not standard. DVI ports can be added to a desktop computer with a video card.

S-video cables: This is another component video type. If you connect a video source to your TV with S-video, it won't quite match the quality of RGB or component cables. It's best to use this video connection for presentations and TV displays where image quality isn't a major concern.

Buy Televisions
Back to Guides Directory